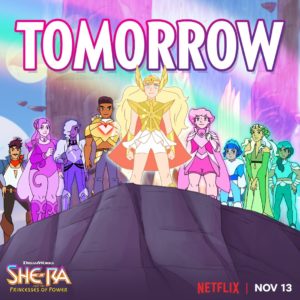 Well I mean I would bet basically one dude or maybe none in a million from the vast Fleen audience is unaware that Noelle Stevenson's take on She-Ra debuts at Netflix today, so I'm not sure why you're reading this instead of binging. From here, I can tell you two spoiler-free things:
It's cool that the closest thing to costume cut-outs are on characters that appear to be dudes; no boob windows here!
It appears that episode 8 (Princess Prom) is going to be cameoriffic. Keep your eyes peeled for awesome people in animated form.
That keening sound you hear in the distance, ever so faint? That's either the whiny manbabies who are upset that these characters are no longer designed for the male gaze¹, or my new dog when she perceives and insufficient amount of attention is being paid to her².
The much louder cheering sound is a mix of adult animation fans seeing something well-made and entertaining, and younger kids seeing something aimed at them that broadens their perception of who can be a protagonist — shapes, sizes, skin tones, and apparent genders are are broad enough that kids who didn't get to see themselves as the hero now have a chance to. Bravo.
In other news:
We mentioned comiXology's move into creator-owned stories back around SDCC, and how they'd tapped a series of webcomics creators to help launch the new comiXology Originals endeavour. One that looks particularly promising is The Stone King by Kel McDonald and Tyler Crook. I had a chance to read issue #1 before its debut tomorrow³. The story's a little Moebius, the art is a little early Finder crossed with War Child-era Grendel. If you've got a comiXology account, I strongly recommend checking this out.
Ever since Goats celebrated 20 years of comics last year, we've been in the territory where more and more webcomics (and/or webcomickers) of a similar vintage would be meeting the mark. The Walkyverse hit 20 about five months after the Goatsiverse, and Penny Arcade will roll over the two decade odometer on Sunday, with a retrospective up at the site.

PvP actually cleared the Big Two-Oh back in May without much fanfare; the actual day didn't have even an oblique reference in the strip, unless you count that obvious 20-sided die in panel two. And now, it's clear there was a reason for the earlier quietude.

Scott Kurtz is doing a comprehensive reprint of the entire damn thing. Oh, sure, you can get a single hardcover with 200-odd pages of the best PvP strips (plus Kurtz's Wedlock and Elementary, the former of which hasn't been seen in forever and which I still maintain is his most promising work) for US$50. Or you can admit you're a completist and get the strips not in the 20th anniversary volume. That's nine damn hardcovers, every single strip, 2500+ pages, for US$200 which is kind of a bargain.

I mean, it's not spare change, but US$50 is an eminently reasonable price for a 200-ish page color hardcover, and by rights nine of them should come to US$450. Oh, plus whatever it costs you when you go to the doctor for painkillers after you throw your back out lifting the box they came in, because it comes to more than 22 frggin' kilos.

The PvP Definitive Edition 20th Anniversary Collection Kickstart runs for another 24 days, and by the FFF mk2 can expect to raise US$92K-138K (the midpoint of that range is about 153% of the US$75K goal). One potentially important factor: due to the relatively high price points on all rewards (US$10 for 1 PDF, US$45 for all 9 PDFs, physical rewards from US$50 to US$2000), this is going to be a relatively low backer campaign (as of this writing, the amount pledged per backer averages a staggering US$141!), and campaigns with fewer than about 200 backers on the first day (Kurtz had 90) are notoriously hard to fit to the prediction model.

The McDonald ratio (hey, there's Kel again) is probably a better predictor and it says US$108K. We'll all find out together in a bit less than a month, and I for one am intensely curious to find out how many superfans out there are willing to engage in this degree of purchase.
---
Spam of this day:
At launch, the service includes comic titles such as, 'Give My Regards To Black Jack', 'Vanguard Princess', 'Danity Kane', 'God Drug', 'Soul Ascendance', original animation videos such as 'Demian', 'Break Ups', 'Short Age', the official soundtrack to the video game 'Vanguard Princess', and the award-winning feature-length animated film 'Padak' among others.
I wouldn't even have mentioned this one except for two magic words: Dannity Kane. Because now I get to point you again to the one of the best editorial cartoons of the year: Reality Star's Son Allegedly Had Affair With Reality Star by Kendra Wells. It never fails to make me giggle.
_______________
¹ That's pretty much their entire argument — if they can't see copious titties in the kids cartoon, it's devoid of worth and a dire insult.
² So same thing, really.
³ And dropping new issues on New Comic Day? Smart. Getting the readers to accept these are just another form of comics is going to drive readership, I'm sure.