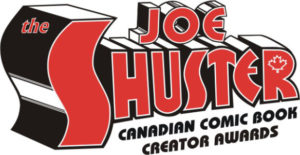 One may recall the nominees for the 2018 Joe Shuster Awards (discussed here), along with the general appreciation of we at Fleen for an awards program that is blessed brief — the entire slate consists of Writer / Scénariste, Cover Artist / Dessinateur Couvertures, Artist / Dessinateur, Cartoonist / Auteur, Webcomics Creator / Créateur de Bandes Dessinées Web, the Gene Day Award (Self-Publishers) / Prix Gene Day (Auto-éditeurs) (in both Single Creator/Creative Team and Anthology formats), the Harry Kremer Award (Retailers) / Prix Harry Kremer (Détaillants), the Dragon Award (Comics for Kids) / Le Prix Dragon (Bandes Dessinées pour Enfants), and the The TM Maple Award / Prix TM Maple (for achievements outside the creative/retail communities).
Eleven categories, done. It's more than the three categories of the Doug Wright Awards, but a hell of a lot less than the thirty-damn-one categories (plus Hall Of Fame) of the Eisners.
Back in May, we noted the inclusion of Jim Zub, Stuart Immonen, Rámon Pérez, and Jillian Tamaki — all current or past webcomickers — in non-webecomics categories; Zub won for Writer / Scénariste, Immonen for Artist / Dessinateur (which precluded Pérez), and Tamaki lost to Jeff Lemire, which is no shame.
That's a pretty good representation in the non-web categories, and moreso when you consider Cover Artist / Dessinateur Couvertures went to Djibril Morissette-Phan, Zub's collaborator on Glitterbomb. Webcomics Creator / Créateur de Bandes Dessinées Web went to Gisele Lagace and David Lumsdon for Ménage à 3.
Now, you may be wondering why I'm just mentioning this now, when the Shusters were due to be awarded at the Montreal Comic Con about two months ago, and the answer is the awards were delayed to give the juries more time. Heck, the Dragon Award nominees weren't even announced until a couple of days after the planned presentation date.
It's unfortunate that the logistics got away from the committee, but given a choice between a rushed (and potentially crappy) awards and one that was deliberated upon, they chose the latter; I can't blame them for that. Thus, the announcement went up today, and the winners have been notified. I guess they'll get the physical components in the mail?
Fleen congratulates all of the winners, and notes again that the Canadian comics awards have pretty much universally avoided weak or lame nominees, so just being nominated really is an honor.
---
Spam of the day:
It Couldn't Be Easier To Learn Piano
As my mother, the lifelong pianist and organist might tell you, I am uniquely un-teachable at the piano.