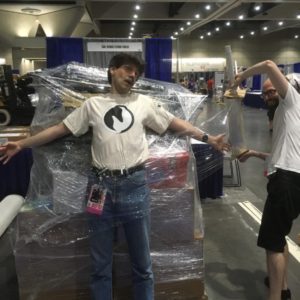 Sunday is always when the madness strikes; a Sunday afternoon at SDCC inspired Dylan Meconis to create The Long Con (the first issue of which is out tomorrow). People seek to make purchases, to see that which they have not seen in the preceding days. Small secrets are revealed, like who has run out of socks, or what word you cannot use in Marvel comics, or the fact that Ryan North knows Velma¹. There are still panels to see (and to write up; I owe you four at this point), and a world to gradually reintroduce oneself to, and after teardown is complete, there is Thai food to consume.
There are small grace notes to be had, such as walking with Raina Telgemeier to see the panel on webcomics that went viral and/or memeish, and being paused so that she and Jen Wang can have a quick conversation. Pausing in the exact spot that Nichelle Nichols is passing through, seemingly unnoticed by anybody around her; she was using a wheelchair to travel a distance that would have been difficult to walk, and nobody lowered their gaze to see who was in the chair. In her presence, I found myself standing straighter and looked her in the eye and said Ms Nichols, thank you for all you did for NASA, because for about 20 years she was a one-woman whirlwind, recruiting promising women and people of color to apply to the astronaut corps (for about 20 years there, if you became and astronaut and didn't have military flight wings, it was probably because she pushed you). She smiled and took two seconds to very graciously acknowledge and thank me, and then she was gone, whisked to her next appearance. If she means that much to me, a white guy engineer, I can only imagine what she meant to generations who didn't have my advantages. Go safely, Ms Nichols. People have soared beyond the sky because of you.
Cosplay of the day included a gentleman who admitted he considered carrying an apple pie as part of his costume², a woman who asked if it was okay to browse the pins in front of the register and smiled when I said sure, it's not like I'm her supervisor³, a fellow with an overly green thumb, and a damn good Meg and Hades. I also either saw a really good instance of McElroy brother cosplay, or an actual McElroy brother having a rough day. There was also a suitably hairy guy in full Zardoz getup, but I didn't get a shot of him.
Final haul included prints (the left one here and this one) and a dinosaur pin from Scott C, an original Terry Moore pencil drawing (I love Jet and Earl), an ARC copy of Jarrett Krosoczka's upcoming Hey, Kiddo, some pins from Eisner winner Shing Yin Khor, and some blind LEGO minifigs because why not.
More in the coming days.
_______________
¹ I was talking with North earlier in the show when a voice called Ryan, Ryan, Ryan! and a woman cosplaying as Velma waved frantically. I didn't know you knew Velma, I remarked. I do, apparently replied North.
He would later tell me that Velma was the first costume that particular woman had worn at SDCC, that the second was Squirrel Girl, and that, oh by the way, she was in fact Milana Vayntrub, the actress who will be portraying Squirrel Girl on TV, and that her costume was not the actual one from the show but one she made herself because she loves Doreen Green that much.
² He told me that after a panel when Neil Degrasse Tyson was being hustled away, Tyson saw him and demanded Are you dresed as Carl Sagan?, and insisted on stopping to talk to him. I showed him a photo of (a much younger) me and Tyson and added the kicker — the photo was taken by Buzz Aldrin (which Tyson asked him to do, I never would have had the nerve).
³ I thought she looked familiar but couldn't place her until she said she hadn't had much time to see stuff on the floor due to spending each day in a large cosplay group. You were with the McVengers! I shouted and indeed, she'd been Black Wendow. Small world.