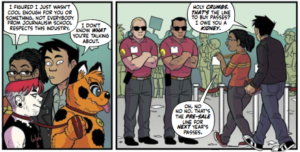 I mean, I'm not mad, it's natural to try to get in on the attention that the rest of the press pays to comics this one week of the year, but these deserve to not have their message missed. Wanna see something cool? Of course you do!
It's been announced for months, but next week (or the day after tomorrow, if you go by the Oni booth¹ at SDCC) will be the debut of The Long Con by Dylan Meconis and Ben Coleman (words), EA Denich (pictures), M Victoria Robado (colors) and Aditya Bidikar (letters). It's the story of what happens when the world ends during a San Diego-alike con, and the convention never ends.

Oni saw fit to send an advance copy PDF of issue #1 my way, and although I'd been planning on buying the series, I am doubly resolved now because this story is off to a very, very good start. There's a thousand little touchstones that congoers will recognize, from lines to cosplayers² to the very culty behavior of the hardcore fans. Neither the attendees of Long Con 50 nor the outside world knows that the other survived, and the culture clash when contact is re-established is going to be cuttingly hilarious as well as deflating of pretensions all around.

Bonus points to Meconis for naming the city where the convention is held Los Spinoza — a nod to the philosopher who's all over her Enlightenment-era vampire and werewolf stories³ — and to the entire team for creating a 60s-era TV show that perfectly captures the feel not just of Star Trek, but everything else SF of the time, in sensibility, design, color scheme, and silliness masked with seriousness. It's all going to tie together and it's going to be a heck of a ride getting there.

Speaking of announced for months but just now breaking out with the details, Ryan North has launched the co-Kickstart for his next book. How To Invent Everything will be in bookstores everywhere in September, so why a Kickstart? Two reasons: exclusive stuff and supporting local bookstores. Let's take the second one first:


This book is already being printed, and it'll be available in bookstores on September 18th… but these days most book orders happen online. That's great, but it would be MORE great if you could support independent booksellers! That's where this Kickstarter comes in: all the books ordered through this Kickstarter will be funneled through indie bookstores.

By buying the book through this Kickstarter, you not only get the exact same book you'd get from a giant online bookstore, but you also get it signed by the author (that's me!), PLUS you get the time traveler's bandanna, PLUS the stretch goals we unlock (see below) — all for the same price you'd pay at retail. It'll be shipped direct to your door on the release day, and you'll get to feel good about supporting cool indie bookstores like:

The Strand in NYC
BookPeople in Austin Texas
The Beguiling in Toronto, Canada

It's thanks to these amazing booksellers that we can offer the book at a price low enough to give you all these exclusive goodies on top!

And that's the first part there as well — there's a set of postcards from the future, and a bandanna version of the famous t-shirt for time travelers with a broken time machine that inspired this book in the first place. Stretch goals will unlock vignettes from North as he is stuck in various points in time, with postcards produced (and added to the order) for each goal reached.

Given that the campaign is about 55% of the way funded in its opening hour (38 minutes ago, Kicktraq tells me, it was at 11%), that's going to be some considerable postcards. And in the time it took me to write that sentence, funding jumped to 59%.

Got a pre-order already with Amazon? Cancel it and go through the Kickstarter. You might not always have the book with you if you get hurled through time, but you can carry a bandanna with you at all times, and Amazon ain't getting any bandanna, folks.
---
Spam of the day:
In order to get help we are interested in helping the animals. Could you be interested in hearing details?
Bonus points for appealing to my sense of altruism instead of my sense of greed. Still not biting, though.
_______________
¹ That would be number 1833.
² And cosplayer outrage at being asked to compromise their vision, man.
³ Speaking of which, I am desperate to give you money in exchange for new Family Man print collections, Meconis.