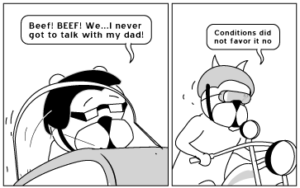 I didn't get to see a lot yesterday; plans to attend various panels fell through, an intention to do an interview was sidetracked by Con Crud (although I hope to make it happen this morning), and became a day of people in and around a certain section of floor followed by an early dinner and early bed. But hey, any day I can crank out 4000 words¹ on people working in young adult graphic fiction and eat one of the top three burritos of my life is a pretty good day.
The Eisners happened last night, and there's a compilation of the livetweets up at The Beat. Going back to the nominees that we discussed a few weeks back, the outcomes were:
Best Digital Comic was won by Harvey Kurtzman's Marley's Ghost, by Harvey Kurtzman, Josh O'Neill, Shannon Wheeler, and Gideon Kendall (comiXology Originals/Kitchen, Lind & Associates; no link I could find which isn't great for a digital comic), Best Webcomic went to The Tea Dragon Society by Katie O'Neill, which was also recognized as the Best Publication for Kids (ages 9–12). Tillie Walden's Spinning took Best Reality-Based Work, and Elements: Fire (edited by Taneka Stotts) is the Best Anthology. Better find out if Shing Yin Khor is firing up the power tools.
Giant Days, Spinning (second nomination) and What Is Left didn't take their respective categories, but when the winners are the likes of Sana Takeda for Monstress (on a tear, I think it took four awards and swept all its nominations), Emil Ferris, and the Hellboy team, you can be proud of who the comics industry considers your peers.
Notable cosplay today followed the theme of committing to the bit: Walter Sobchak had opinions on prior restraint (but laughed he wouldn't share them at volume as there were kids about), Bob had a suitably hesitant delivery when I asked about today's special and a Cheeseburger Backpack, but the day's Commitment Cup went to one Daenerys Targaryen went out and prepared for her moment on the con floor months ago. Brava.
Panels to watch for today include
The Comics Revolution with Mark Siegel of :01 Books. Room 29AB at 1:00.
Spotlight On Scott McCloud: 25 Years Of Understanding Comics The title really says it all. Also Room 29AB at 4:00.
There's also the big Steven Universe panel, but you needed to start lining up for it about 36 hours ago, sorry.
_______________
¹ There were originally 3500 words of transciption; I'd intended to edit them down.