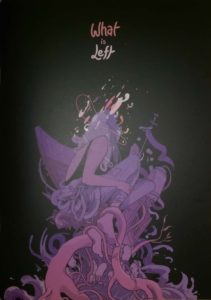 Okay so our Friends To The North celebrated their big holiday already, and we here in 'Merika won't until tomorrow, but the holiday doldrums are well upon us. Not much going on, but there is one thing to keep an eye out for in the coming weeks:
On July 17 we're Kickstarting The Nib Magazine, a 100 page print quarterly. The first four issues — Death, Family, Empire and Scams — have been in the works all year and we will hit send to the printer the second it's funded.

All new comics every issue — journalism, strips, Nib crew, Intercept journalists, names from mainstream comics. I can't wait to drop who is on board.
That from The Nib editor and driving force Matt Bors, who's shepherded the editorial/reportage comics site from (intermittently neglected) Medium section to big-ass book to recurring calendar to animated series, the contributors to which keep showing up in consideration of various awards.
You've got two weeks notice. Be prepared.
And I just realized that I haven't discussed this year's Eisner nominations, on account of they came out while I was at Camp. As we've seen in the past forever or so, the distinctions between Best Digital Comic and Best Webcomic are confusing and/or confused, and which are described as:
For the Best Digital Comic category, works must be longform — that is, comparable to comic books or graphic novels in storytelling or length. Webcomics similar to daily newspaper strips, for example, would not be eligible. Digital comics should have a unique URL, be part of a webcomics site, or otherwise stand alone (not be part of a blog, for instance).
So webcomics are defined by what they aren't rather than by what they are, but for the most part they've come to largely be creator-owned work without publisher gatekeeping (although there are a couple of fascinating exceptions in the Best Webcomic Category. This year's nominees are:
Best Digital Comic
Bandette, by Paul Tobin and Colleen Coover (Monkeybrain/comiXology)
Barrier, by Brian K. Vaughan and Marcos Martin (Panel Syndicate)
The Carpet Merchant of Konstaniniyya, by Reimena Yee (reimenayee.com/the-carpet-merchant)
Contact High, by James F. Wright and Josh Eckert (gumroad.com/l/YnxSm)
Harvey Kurtzman's Marley's Ghost, by Harvey Kurtzman, Josh O'Neill, Shannon Wheeler, and Gideon Kendall (comiXology Originals/Kitchen, Lind & Associates)
Quince, by Sebastian Kadlecik, Kit Steinkellner, and Emma Steinkellner, translated by Valeria Tranier (Fanbase Press/comiXology)
Best Webcomic
I'll go out on a limb and say that Carpenter & Powell, and Halpern & Sloan were doing Work For Hire; I'll also note that O'Neill's The Tea Dragon Society is functionally indistinct from what the Eisners call a Digital Comic — to the extent that she and it are also nominated in the category of Best Publication for Kids (ages 9–12).
Outside the immediately applicable categories, you'll find Giant Days (John Allison, Max Sarin, and Liz Fleming) nominated as Best Continuing Series, Spinning (Tillie Walden) in both Best Publication for Teens (ages 13-17) and Best Reality-Based Work, What Is Left (Rosemary Valero-O'Connell) in both Best Single Issue/One-Shot and Best Coloring, and Elements: Fire (edited by Taneka Stotts) in Best Anthology¹.
The Eisner Awards will be presented on Friday, 20 July, as part of San Diego Comic Con. Best of luck to all the nominees.
---
Spam of the day:
Only here the choice of young girls for every unique guy and completely free! They are wettest slaves, they will and want implement everything you command !
I've often wondered if there was some way to make Russian mail-order bride spam not the ickiest thing in the spam filters, and … ick. Just ick.
_______________
¹ Presumably, if it wins, Stotts will have Shing Yin Khor devise some means of breaking up the statue into components that can be distributed to the contributors.