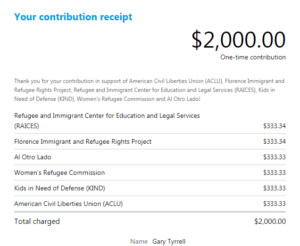 Friday was also spent underneath all of the weather, but I'm back today to update you on the just-concluded latest F-Six fund drive¹.
I challenged you to donate to the Kidlit Says No Kids In Cages campaign; they sought to raise US$42,000, got it in less than 24 hours, and continue to raise money. Thanks to you, we're part of the push towards US$200,000.
In no particular order, then, thanks to:
Erik Johnson
Daniel Mosier
Ben Cordes
Mx Roo Khan
Pierre Lebeaupin²
And those who either did not provide a name for acknowledgment, or wished to remain anonymous
Matched amounts ranged from US$10 to US$1000. Every contribution was equally appreciated.
In all, you sent along receipts for US$1721.50; I saw enough people posting the link and I contributed messages that I fully believe our goal of US$2000 was met so I rounded up to that nice, round number. Beneficiaries of KSNKIC are The Florence Project, RAICES, Women's Refugee Commission, Kids In Need Of Defense, Al Otro Lado, and the ACLU.
The attempts at dehumanization will continue, and we will continue to push back because we don't suck. If you didn't get in on the match, it's not too late — KSNKIC will keep raising money until every child stolen from their family is reunited, and when the act of seeking asylum is no longer criminalized.
So, for a while then.
But for this weekend, know that we did something. Take a deep breath, have a cookie or two (anybody that gave that's in my corner of New Jersey, I got Thin Mints with your name on 'em), rest for a moment. The fight will need us again soon enough.
---
Spam of the day:
I swear, this is real.
COLLECT YOUR F R E E M.A.G.A. HAT
Oh, you do not even realize how bad you fucked up. This one is going to shame your descendants, yea, unto the generations. Great-grandpa Chudley sure was an idiot, wasn't he, Mom? the children will ask. Yes, dear will come the answer, that's why we have to be extra good people, to erase the stain.
_______________
¹ As always, thanks to longtime reader Mx Roo Khan for suggesting the name.
² Obligatory disclaimer: Fleen Senior French Correspondent Pierre Lebeaupin was not asked to donate, and his posting position here at Fleen is in no way dependent on the fact that he contributed. He's just a good person.