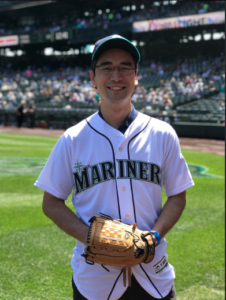 I know, sports? Just stick with me.
Okay, this is just great: we have previously been informed that Kazu Kibuishi had received the ultimate sports geek honor — an official Day in his honor at a major league ballpark — but over the weekend the Seattle Mariners upped the stakes. On Sunday, Kibuishi threw out the first pitch at a Mariners home game.

It may be that MLB is recognizing that the jock/nerd dichotomy is a fake idea, it may be that somebody in the front office has a kid who's a huge Amulet fan, or maybe it's the team members themselves that can't wait until Book 8 drops¹. But ultimately, it doesn't matter. Kibuishi got to suit up and throw a pitch from the mound in his hometown ballpark, and he looked pretty damn happy to be doing so. Here's hoping that there are even bigger achievements and thrills in store for him the future.

Speaking of bigger achievements and thrills, we are (as of this writing) a bit less than six and a half hours since the news broke this morning of Kickstart for the third print collection of Check, Please! by Ngozi Ukazu, and the book has already raised more than US$106,000 (nearly 500% of goal), provided by 1325 backers. Those numbers are changing as I type, so I'll update them below just before I hit "post".

What's not changing is the fact that all the top rewards (5 @ US$250, you get an original art bookplate; 5 @ US$400, you also get original character sketches; 1 @ US$1000, you get to be in the comic) have been snapped up already; if not for the fact that they were limited, I'm certain that each of those tiers would have ten times the claimants they do now.

For reference, this campaign is already well over the total numbers for the first collection of Check, Please! (1577 backers, just under US$75K), and if we adopt the McDonald Rule², Ukazu is well on her way to eclipsing the second collection³. By tomorrow morning we'll possibly be able to apply the FFF mk2, but it seems safe to say (especially given all the press and excitement right now around the upcoming release of a combined Year One/Year Two edition from :01 Books) that this will certainly clear the half-million mark.

And, as I observed this morning within that first public hour, I can't wait the hear the rhetorical knots that the "Diversity is killing comics" bozos will have to twist themselves into to explain about how this doesn't really count, and how a comic by a Nigerian-American (!) woman (!!) with an ethnically-diverse cast (!!!) about gay (!!!!) hockey players is really a failure. The schadenfreude will be delicious.

Not sports: Over the weekend the National Cartoonists Society held their annual meet-up in Philadelphia, and on Saturday night the various division awards were presented. The two awards for Online Comics went to (Long Form) John Allison for Bad Machinery (which is once again Scary Go Round), and (Short Form) to Gemma Correll for various work.

Again, as a disclaimer, I'm involved in the process of producing the nominations for these two divisions, but I do not have a vote towards the awards themselves. And, as previously noted, I am a tremendous fan of both Correll's and Allison's work and am pleased to see their stellar work recognized.

We at Fleen congratulate the winners as well as their fellow nominees, and note that between the wins for Bad Machinery and Scenes From A Multiverse, and the unprecedented three nominations for Octopus Pie, the reprobates of Dumbrella must be considered some of the best webcomickers ever.
Update to add: At 1447 EDT 29 May, 1370 backers, US$109,726, or 490% of goal.
---
Spam of the day:
Did you not file with the IRS this year because you owe back taxes?
No, because not filing is literally the dumbest thing you can do. If you owe three bucks, the penalty for not filing will dwarf the penalty for underpaying/paying over time if you owe three thousand (or thirty thousand, for that matter). And geez, you can file for an automatically-granted extension, which gives you more time to get your shit together.
_______________
¹ 25 September, y'all.
² The first three days of funding will represent 1/3 of your eventual total.
³ 5088 backers, just about US$399K raised. Right now, both backer count and total raised are about 27% of what Year Two achieved in 31 days. While we're here, a note about timing: the campaign was publicized last night for Patreon backers, where it funded in less than half an hour. It hit 300% within an hour of the public announcement.