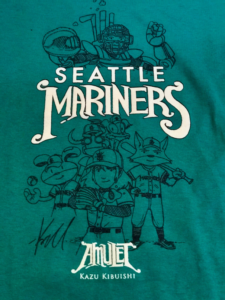 Let's just jump to the heart of it:
When I was a kid I wanted to be a pro baseball player or comic artist. I chose the 2nd option and never thought the roads could somehow meet! On Aug 19th, the @Mariners will celebrate Amulet Day. Enjoy a day at the ballpark and get a T-shirt! Link here: http://www.mariners.com/amulet
That, of course, is Kazu Kibuishi, who is one of the most accomplished (and simultaneously most fundamentally decent) folks in comics, and who is a damn rockstar to middle grades librarians and their patrons. The Amulet series has been a favorite here at the Fleenplex ever since book one (ten years! It's been more than ten years!), and the anticipation for book 8 (of 9) is at a fever pitch in classrooms and libraries across the nation — 25 September, classrooms and libraries, that's when you'll get it¹.
And now he gets to have an entire professional baseball game dedicated to him. I'll be honest, because I know just a little bit about what that's like², I can pretty well predict that Kibuishi will be outwardly calm and collected (because he pretty much always is), but inwardly? He's going to be just as excited as all his fans are when they get the chance to meet him.
Amulet Day with the Seattle Mariners (vs the LA Dodgers) will be Sunday, 19 August; game time is 1:10pm, with tickets purchased by 17 August (5:00pm local time) good for a special Amulet t-shirt when you bring your stub to section 339 by the end of the third inning. Get your tickets here and be sure to enter the promo code AMULET so you'll be seated with all the other Amulet fans.
---
Update to the latest F-Six campaign: We're at US$100 of donations to be matched. You've got just under two weeks to help send a message about gun control.
---
Spam of the day:
Fans Love You
You know who else loves me? Ladies.
_______________
¹ Sometime around dawn on the 26th, the demands to know when book 9 will be out will waft far and wide o'er this great land.
² The local minor league team had a game dedicated to my EMS agency one Saturday night; we got cheered when we assembled on the edge of the field by maybe 2000 people and it was kind of thrilling.