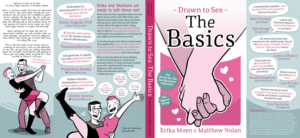 You may recall that Becky Dreistadt and Frank Gibson (hereinafter, Becky and Frank; anybody caught using the portmanteau Frecky will be beaten) have a new collection of their Capture Creatures comic out now, and will be doing a launch event tomorrow in suburban LA. But did you know that they've expanded the art series?

Capture Creatures was (obvs) based on the 151 original Pokémon, and Dreistadt did 151 paintings of the 151 creatures. Of course, there are waaaay more Pokémon these days, and Becky & Frank decided what's good for Nintendo is good for them. Thus, earlier this week they revealed Capture Creature #152, joined since by #153, #154, and #155. I'd keep an eye on their Tumblr and the Capture Creatures tag if you don't want to miss out.

We at Fleen have been big fans of Erika Moen and Matthew Nolan's ongoing exploration of all thing human sexuality, Oh Joy, Sex Toy. More than just a review of happy-making devices, it's presented scads of terribly useful (and more important, truthful) information about what human sexuality is like; for waaaay too many there no organized sex education in their personal experience, and as such Moen & Nolan may be one of the better resources they have to answer questions like What's going on? Am I normal? Why is this happening? What do I do now? And now it's getting a little easier:


Oh my gosh you guys, we have some AMAZING news to share with you. We've been keeping it hush-hush but now that ECCC is hitting (which we're working – check out the info here!), both Limerence Press and OJST are finally able to talk about it! We are making a PURELY SEX EDUCATION OJST COLLECTION! It's called DRAWN TO SEX!!!!

No jack-off sleeves. No subjective lube comparisons. No reviews of porn sites¹. This is all about the facts, and as Nolan says, dad jokes. Some of those facts will be biological in nature (ex: contraception methods, anatomical development), some will be about paraphilias or identities (ex: furries, the gender spectrum), some will be about practices that enhance sexual pleasure (ex: piercing, pegging); you can get a sense of it by browsing the comics that are tagged as educational.

As with their prior collections, Drawn To Sex will Kickstart then be placed into wide distribution by Limerence Press; look for the funding campaign in mid-May.

Speaking of education, schools, and crowdfunding, the Fleen Fight For Fungible Futures Fund is back on. There's kids out there that want nothing more than for nobody else to join their club — school shooting survivor — and have had to reset the counter on the big __ DAYS SINCE THE LAST SCHOOL SHOOTING tote board three times in three days.

They're calling BS on the idea that we can't do anything about this. They're right. Between now and 20 March, I will match your donations to either the funding campaigns for the national March For Our Lives in DC, or the local march in Parkland, Florida; I'm setting an initial cap of US$5000, but I'll go higher if you show me that you care about this. Get giving.

Oh, and one other thing — attempts to argue the necessity or futility of gun control in the comments will be met with extreme prejudice. My house, my rules. Go peddle your murdertoy fondling fetish elsewhere.
---
Spam of the day:
sissy boy outlet amsterdam chastity belt india fuck for free videos bra designs how to do makeup video jerk off instru wholesale mens clothing loving older men
This spam I received today probably overlaps with the Drawn To Sex table of contents to at significant degree.
_______________
¹ But I'll bet my bottom² dollar that there will be Anal Safety Snails³.
² See what I did there?
³ Fun fact: Moen has admitted that when she first named the Anal Safety Snails, she didn't realize the acronym would be ASS.