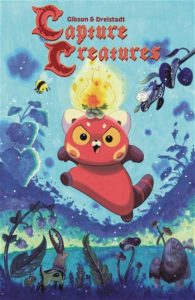 Anybody that follows this page know that my crusty, cynical exterior last only so long as I'm not in proximity or otherwise thinking about the work or actual persons of Becky Dreistadt and Frank Gibson. They do work that is lovely to look at, heartwarming to read, and just plain fun.
A couple of years back, their tribute to the spirit of Pokémon, Capture Creatures, morphed from painting series to art book to monthly comic, which hit a prolonged hiatus in the middle of the story. The delays have been resolved, though, and Capture Creatures Volume 1 is about to be published as a trade paperback. Getting everybody back in Capture Creatures mood brought Gibson to Fleen for a chat, and a bit of schedule-clearing made Dresistadt available as well.
Frank Gibson: Hey!! I got Becky with me too!
Fleen: Hang on, have to clear a couple of monsters from my stables.
FG: Do it! Send them away!
Fleen: Friggin' gremlins, breeding under my nose. How are you guys?
FG: Dude we are so good. Working on comics again! It's crazy!
Fleen: What are you working on besides Bustletown? Dare we expect more Capture Creatures?
FG: There will be new Capture Creatures this year!! I just wrote a mini!
Becky Dreistadt: I started thumbing it out yesterday! Actually immediately after this we're going to be working on it a little more.
Fleen: A Capture Creatures mini, or something else?
FG: Capture Creatures mini. But I've started working away on the second part of the main story, just chipping away at it!
Fleen: So we get the long-awaited issue 5, or will this be a new story?
FG: Yeah, Issue 5 is going to be Issues 5-8 to get the intro story done. Then it's graphic novels from there!
Fleen: The key question is: Who's publishing issues 5 to 8?
BD: Us!
FG: I really like Capture Creatures, I'm open to other people putting it out, but since we did the Capture Creatures encyclopedia independently first I've realized I want a little more control of it than most of the books I write.
Fleen: If you're publishing what's the sales channel? How do peeps give you money for awesome comics?
FG: It's back to basics I think. We may have to visit old Uncle Kickstarter and shake him down. It's been awhile. We're considering a lot of options, we want to keep the team of [inker] Kelly Bastow, [letterer] Britt Wilson, and [colorist] Katy Farina intact.
They're amazing, they're really busy but we want to try make it happen. Also I want to fairly compensate who we work with, which makes funding projects tricky. Maybe Patreon? Maybe it's time.
Fleen: What's the time frame for 5 – 8, and then graphic novels? The first four issues appeared pretty regularly, then a hiatus of what? Three years now?
BD: Right now we don't have a set time frame, we're hoping to start releasing stuff this year. Since I'm working full-time at Disney its tricky to set hard dates. Also we've got Bustletown and a couple brand new kids books in the pipeline too.
FG: Yeah the hiatus wasn't something that anyone wanted, it did give us time to get Bustletown fired up which is a silver lining. In the end the first issue did amazing and subsequent issues did not for a variety of reasons outside of our control. The direct market is hard.
Surprisingly we had a huge amount of free promo from Diamond and that really contributed to having great early sales. There's also this huge problem where kids don't go to comic stores, unless it's like Telegraph or Beguiling or SHQ.
BD: My father is afraid to go to comic stores and he used to draw comics.
Fleen: Why's your father afraid, Becky?
BD: He thinks nerds are gonna be mean to him. He's scared of nerds.
Fleen: He's met Frank, right?
FG: He thinks I'm all right. [winky emoji]
Fleen: So for those that came in late, want to do a quick recap on Capture Creatures?
BD: So after a cataclysmic event all the wild animals in this particular corner of the world have disappeared, but on an island off the coast it appears the creatures have returned but with strange unexplained powers.
It's a story about Tamzen, a young girl who wants to protect the creatures from a shadowy group of people who are trying to capture them and use them for their own nefarious purposes!
Fleen: Tamzen annnnd?
Frank: A character who looks suspiciously like 2015 Frank except he is a child. I can't believe Becky did this to me.
Fleen: You love it.
FG: I have become more ok with it as time has gone on.
BD: Also Teddy who is a grown up boy-scout. (Park ranger but with cute outfit).
Fleen: So after you finish the Capture Creatures intro story, it's graphic novels. What's the plan there?
FG: World-building! There's so much fun you can have in a world where essentially dogs can breathe fire! I want to send these kids everywhere!
BD: More creatures! Cute moments!
Fleen: What kinds of stories do you get to tell in Capture Creatures that you can't in Bustletown, and vice versa?
FG: Bustletown is more about everyday problems that people face and they're solved with levity. It's really light and fun and small. Capture Creatures is going to be much more dense.
Fleen: And what about them side dishes? And by side dishes, I mean kids books.
Becky: One is called My Pet King, about a kid who gets a king as a pet but the king is very small and lives in a hamster cage. The other is Animal Cake Party, it's about a kitten named Sprinkle who wants to hang out with the cool wild animals in the woods.
FG: The latter is a subject matter we are very comfortable with. Animals and cakes.
Fleen: These sound suspiciously like Golden Books.
BD: We haven't got far along with to publisher pitch, I'd love to have an official Golden Book one day!
FG: One day!
Fleen: So with all of the Disney work that Becky's got, how much of Capture Creatures plus Bustletown plus side dishes plus manage a chunk of Kickstart and/or Patreon gets done in 2018?
BD: I've started roughing out the fourth part of Bustletown, so that's on it's way.
FG: We're starting slow with Capture Creatures, trying to wrap up this mini pretty quick. Focusing on making sure Volume 1 gets the attention it deserves.
BD: Animal Cake Party only has about five pages left to pencil, then I have to do a couple paintings for it before it's ready to go out as a pitch. It's a tricky balance but it's happening!
FG: I think what makes Capture Creatures a little easier is we have a team. On the mini Becky will be inking it, the style is going to be a little different, but we want to get Kelly back as soon as she's available for Volume 2.
Fleen: So people that want to be up to date on new Capture Creatures can go back and read issues 1-4, which are getting released as a trade paperback. Why get the book instead of prowling the single-issue bins?
FG: It's the first half of the Capture Creatures story. Honestly I think it's the best looking monthly comic. Our team did an amazing job on it especially considering the time constraints. We've been lucky in that we've been given the time to go back, edit, fix up little mistakes we made through the process.
It's a really beautiful book and I thought going back and re-reading it after two years I'd just see every flaw and … I loved it. I still love Capture Creatures and working on this book made me excited for its future.
BD: It's out by the end of the month! Direct market pre-orders are over, but you can get it online from Amazon, Barnes & Noble, even Target. We also have a signing at Gallery Nucleus in Alhambra, CA on March 3rd!
Fleen: And where else will people be able to see you in the next couple of months? ECCC, MoCCA, TCAF?
FG: It's the first ECCC we're missing in years!!!! Our first convention of the year is TCAF. Then it's on to SDCC and SPX! Something had to give so we could make comics again. Turns out doing 8-15 conventions a year isn't compatible with producing a pile of comics.
Fleen: And I'm guessing that people can see you streaming PUBG pretty regularly?
FG: Haha oh boy. Yeah I didn't think that being a game stream boy was going to be a part of my life, but here I am. I hadn't played a shooter since I was a kid really. But hanging out with pals playing this game has been a blast.
BD: We also do a stream where we play Kingdom Hearts with our friends! I'm going to start streaming more art and other games too.
FG: It's been cool, new people are finding our work. Some people just think I'm a PUBG streamer which is super weird, I'm not even particularly good at it. They're surprised when they find out I make comics and work on cartoons.
Fleen: Sounds like you've found a new niche
FG: My life is just niche after niche. Maybe they'll all add up to one thing eventually. Wrestling, comics, vintage kids books, cats, weird video games.
BD: Candy.
Fleen: Booze.
FG: Still love it!
We at Fleen thank Becky Dreistadt and Frank Gibson for their time. Capture Creatures Volume 1 is available everywhere on 27 February.
---
Spam of the day:
Up to $950 Off Sakai Rammers!
Dunno, don't want to know, and I'm fairly certain this has nothing to do with Usagi Yojimbo.