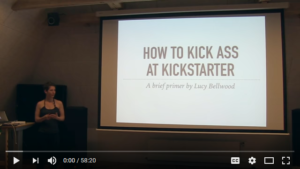 I am cautiously optimistic that all the of frozen water I cleared away from my house will be the last we get this season; much of it is melting away as we speak, which makes me wonder what the point of it all was.
Anyway, let's talk Kickstarter, and not for the reason that appears to be all over subtwitter¹. Rather, let's see how Kickstarters can/should be run from people with a history of running them well.
---
Spam of the day:
Easy care suits: Wear. Wash. Repeat.
Why is this the subject line for a spam full of pictures and links to knock-off jewelry?
_______________
¹ For the record, I'm far away from the corners of Webcomickia where all of this went down and don't know any of the principals, but people I know and trust have Opinions and yeah — been a while since we had a mess like this. And it seems risky for Kickstarter to have offered a 22 year old a job in charge of stuff without an unimpeachably solid record of managing people and processes (which pretty much no 22 year old has, so …).
² Adventure Cartoonist!!
³ Evil twin, etc.