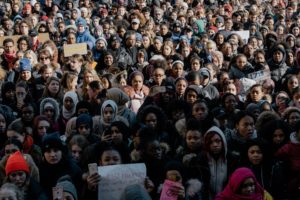 The reminder being, the Fleen Fight For Fungible Futures Fund is active again, with we at Fleen matching any donations to either the Washington, DC or Parkland, Florida March For Our Lives. As today is the one-month anniversary of the Parkland shooting (and the disgraceful reaction — which is to say, almost none — on the part of state and national government) and the kids are walking out of school to keep us from letting this one slip away like all the others, it seemed a good time to remind y'all. You've got until 20 March to make me proud and, incidentally, cost me some money.
---
I don't always remember to mention the efforts of the folks behind the Toronto Comics Anthology when they come up with a new edition, but my eyeballs happened to be in the right place today, so I'm pointing out that it's anthology time, and that means the relevant Kickstarter campaign is underway. Osgoode As Gold features the collective skill of the Toronto comics community (which surely rivals Brooklyn or Portland as a hub for comickers), and as in previous years, looks like a terrific value for your pledge dollar.
It's also got the logistics figured out like whoa, given that there's an option to pledge for a physical copy and pick it up at TCAF, which means that these books will be in hand by May 12, or a mere six weeks from the end of the campaign. That only works if they've got everything ready to go, at the printer, just waiting on the check (or cheque, as Our Northern Friends would have it) to arrive before setting the presses in motion. It would be a shame to make all that work go wasted.
At the moment, the anthology sits at 45% of goal with sixteen and a half days to go; Kicktraq has them trended to clear the CA$15,000 target by a mere sixty four Canadian fun bucks, and the Kicktraq predictions this far out are always high. The FFF mk2 put them at CA$13.6K — 20.3K (but the low participation rate is low enough that the math isn't very accurate), and the McDonald Ratio has them at CA$14.3K; what I am saying is that there is a need for a kick in the pants, because falling just barely short is a terrible fate.
There's absolutely going to be something (multiple somethings!) in that anthology you're going to love, and that's worth CA$20 (about fifteen and a half American) for 220+ pages and 50 creators. Give it a look, and please do consider supporting it.
---
Spam of the day:
Want to earn potentially explosive returns from Bitcoin in 2018?
My dudes, if I wanted to gamble I'd go to Vegas, and I'm too good at math to gamble. Hashtag: CRAEFUL.