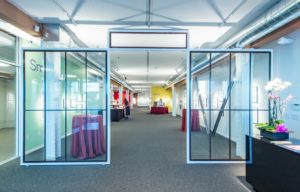 It's been a long time coming but the Cartoon Art Museum is back, baby. Oh, sure, they've been open in their new home on San Francisco's famed Fisherman's Wharf since October, but big institutions like this haven't really made a change until they have a party. Gala grand opening celebration time, y'all:
Cartoon Art Museum
Grand Opening Celebration
Saturday, January 20, 2018

Hellboy Tribute Signing: 6pm to 7pm
Reception: 7pm to 9pm

Tickets: $10 – $100, free admission for CAM members

Join the Cartoon Art Museum as we celebrate our new location at 781 Beach Street, near Ghirardelli Square, Aquatic Park and the Cable Car Terminus. After a two-year hiatus, the museum is thrilled to be open to the public again with our first round of exhibitions.

This party also serves as the closing reception for our Tribute to Mike Mignola's Hellboy, which concludes Monday, January 29th. Several artists featured in the Hellboy tribute will be on hand to sign the Cartoon Art Museum's limited exhibition catalogs. Special guests include Gary Amaro, Mark Badger, Lee Ballard, Nick Dragotta, Steve Purcell, Ben Seto, and Jon Way$hak.
The opening exhibitions (which went live on 28 October, CAM's relaunch date) are A Tribute to Mike Mignola's Hellboy (through 29 January), Smile! The Comics of Raina Telgemeier (through 19 March), and Emerging Artist Showcase: Nidhi Chanani's Pashmina (through 12 February). Ticket available at Guestlist.
Hey, you know who would definitely attend the CAM Grand Opening Celebration if he were on the correct continent? David Morgan-Mar (PhD, LEGO®©™etc). Alas, as far as I am from CAM being on the wrong side of North America, Morgan-Mar is not only on the wrong continent, not only in the wrong hemisphere twice, he's not even in the correct season.
But he's got other things to keep busy with; in this case, he's trying to drive contributions to the collaborative webcomic Lightning Made Of Owls (which last updated … hmmm, 27 October 2017, the day before CAM reopened, which I find to be suspiciously coincidental), and he's offering cold hard cash. Key points:
In 2018, we're running a comic contest. With prizes! Prizes are for the best comics published in 2018, as determined by our readers:

First prize: AU$500
Second prize: AU$200
Third prize: AU$100¹

Send us your comic! Follow all the rules below under "How to Contribute". Pay particular attention to the Characters and Copyright sections.

You may enter multiple times. If you submit multiple comics in a very short time, we reserve the right to space them out (e.g. one per month) so other submitters get a chance.
At the end of 2018, a nomination and voting system of contributors and readers will be used to determine the winning comics. (Details to be determined.)
If practical, we will seek to collect the 2018 contest comics into a printed book collection, funded by Kickstarter, with all profits donated to The Jane Goodall Institute (an internationally registered charity).
You can send your your comic, chosen author name, and a text transcript to Morgan-Mar, also known as dmm, who may be found at a site dedicated to the memory of semibeloved cartoon character dangermouse, dot net. And presuming the planet continues to spin on its axis, Morgan-Mar indicates that the same will happen in 2019. Get crackin'.
---
Spam of the day:
Canvas Prints – Limited Time Offer, Up to 81% off!
You seem to have mistaken me for somebody that wishes to have art on his walls that isn't on animation celluloid or Bristol paper. Good day, sir!
I said, Good day!
_______________
¹ For those curious, the prizes are approximately US$392, 157, and 78 respectively (at current exchange rates). Canadian dollar amounts are 492, 197, and 98; Euros are 328, 131, and 66; pounds sterling are 290, 116, and 58; you can figure out any other units on your own.