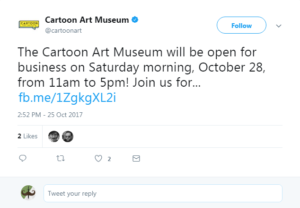 No hobbits, though. At least, I don't think so.
On Saturday, 28 October (that would be this coming Saturday, the day after the day after tomorrow), after two years vagabonding in the wilderness, the Cartoon Art Museum will open the doors of its new home:
The Cartoon Art Museum will be open for business on Saturday morning, October 28, from 11am to 5pm!
That new home will be 781 Beach Street, on the famed Fisherman's Wharf in San Francisco. And what better way to reopen a San Francisco institution than by holding a retrospective of another San Francisco institution?
The new @cartoonart Museum re-opens this weekend with a retrospective of my work! San Francisco, we are so lucky to have this institution!
Raina Telgemeier retrospective, muthascratchers! And not just Raina, but also a tribute to Mike Freakin' Mignola's Hellboy, and an art showcase of another Bay Area stalwart, Nidhi Chanani¹. Raina's already had a walkthrough and looks really happy with how things turned out.
Not that that's any surprise, to be frank. Curator Andrew Farago has been guiding CAM's programs for the past decade or so, and even in the two years that it lacked any space to call its own, he was producing compelling events in conjunction with plenty of other cultural institutions in San Francisco. I would find it difficult to believe that he would choose now to put forth anything other than the very best that CAM can muster.
And CAM's very best is very, very good, y'all. Anybody in the Bay Area that doesn't check this out, you're dead to me. And anybody that loves cartoons, do me a solid and consider dropping CAM a few bucks, yeah? They've earned it.
---
Spam of the day:
Visa
Yes, incomprehensible block of Cyrillic letters, I completely believe that you are an important notice about my Visa card. Totally.
_______________
¹ Who will be in Seattle in support of her new book, Pashmina. Pretty sure she'll hop over to CAM as soon as she's home to see her stuff all blowed up on the walls, though. No idea if Mignola will be around.