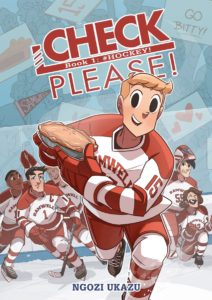 How's everybody doing? First full week back to everything? First working Monday of the new year? Mine's been pretty Mondayish, but it's starting to look up. Let's see what we can look forward to in the nearish (and in one case, fairly immediate) future.
:01 Books has shared its Fall 2018 release list, and that includes first looks at some covers.
For example, Castle In The Stars: The Moon King is the second half of a French BD that is very early-period Miyazakiesque (think Laputa) adventure tale; I'll give it a review along with the first volume (which is excellent) when it releases (the books are, individually, a little too short to review alone).
Drew Weing's Margo Maloo series continues with The Monster Mall, which I suspect will be a more than satisfying successor to the first volume in the adventures of the Monster Mediator.
And as long as we're talking webcomickers, :01 announced the newest in the Science Comics series, this one written by science communicator/cute critters comics creator extraordinaire Rosemary Mosco. She's partnered up with Jon Chad on art for Solar System: Our Place In Space. I'm a little surprised that it wasn't to do with the sort of stuff you'd find on a terrestrial nature walk (birds, snakes, bugs), since Mosco is known for that, but it will be adorable (because all of Mosco's stuff is adorable). Just check out her description:


I'm so excited! Here's the cover reveal for my graphic novel with @jon_chad. It's about space, how it's ok to be both brave and scared, and A NERDY SNAKE IN AN IMPROBABLE SPACE SUIT.

Oh, and it's out September 18th. Sorry, I should have mentioned that but I got distracted by the snake (his name is Mr. Slithers).

Did I say she was known for things like snakes? Never doubt Mosco. She'll probably work in bird parts somehow.

The big reveal, though, is the cover of the first combined volume of Check, Please! from :01; subtitled Hockey, it'll cover the first two years of Ngozi Ukazu's delightful (and zeitgeist-tapping) gay bro college hockey players love story (with pie). This is gonna sell a zillion copies.
And not all of the books have gotten the tweet treatment yet, but the announcement contains news of the third Nameless City book (The Divided Earth) by Faith Erin Hicks, the print collection of Tillie Walden's On A Sunbeam, the final volume of Secret Coders by Gene Yang & Mike Holmes, a new Cucumber Quest collection by Gigi DG, another Science Comics volume on The Brain, a Zita The Spacegirl box set, the long-awaited next volume in the Walker Bean series, and more. It's gonna be a busy fall.
And, for those of you that don't want to wait, Ethan Kocak continues his fascination with elongated critters by launching a new comic. Punchy Punches Everyone is about a hard-boiled mantis shrimp private eye that … well, the title sort of says it all, and mantis shrimp punches are not something you want to screw around with. I'll be honest here; I'm not sure how long Kocak can keep up the joke, but I'll be there as long as he manages to do so.
---
Spam of the day:
[FREE GUIDE] Learn How Bitcoin is Creating Millionaires?
I'm guessing that, much like the California Gold Rush didn't make many miners rich but did start the fortunes of mercantile empires (and a guy named Levi Strauss) from all the stuff they sold to those chasing fortunes in the gold fields, any Bitcoin-adjacent millionaires are mostly among those that are cobbling together special "mining rigs" out of extra CPUs and video cards they have hanging around and selling them at a vicious markup to those that think they'll get rich on cryptocurrency.