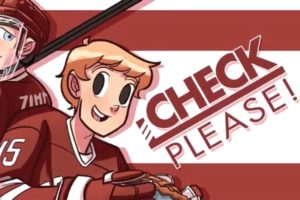 What's that? Oh, just a story in Entertainment Weekly about Ngozi Ukazu signing representation with George Rohac, as :01 Books announces that Check, Please! will be published as a two-volume series. You know, just another Friday in Webcomicstan.
Key bits:
The first volume, which hits stores Fall 2018, will collect the first two "Years" of the comic, while the second will collect the latter two, and is set to be published in Fall 2019. Both books will feature extra content not included in the Kickstarter editions.
It's not clear at the present time if Ukazu will run Kickstarter editions of Year Three and Year Four, or if by that time the first :01 volume will be so close that it's not worth doing. Speaking as a reader for whom obsessive completionism is a lifestyle, I can see a demand for separate Y3 & Y4 editions that match on the bookshelf of existing readers, along with new readers jumping on the combo versions.
In any event, it's kind of hard to imagine a combo platter of unstoppable awesomeness more inevitable than Ukazu + George + :01, and I am really interested to see what other self-published works :01 will snag up for new editions in the future. Unless I'm misremembering, this is the first case of non-French material that's been obtained for republication rather than being commissioned as a new work. Very interesting.
Okay, enjoy the long weekend, Canadians (1 July) and Usians (4 July). Catch you next week.
---
Spam of the day:
CANNABIS GUMMIES Without a Prescription in All 50 States
Man, I can barely manage a handful of regular gummies without my teeth starting to ache. I ain't going near gummies that will get me hepped up like I'm on goofballs.