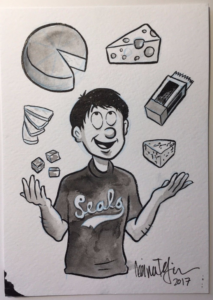 The countdown to pie is go, repeat, GO.
Kickstarter Alert #1: The folks at Cloudscape Comics (including but by no means limited to my favorite comicking engineer¹) do regular print anthologies of the best of British Columbia cartoonists. They're great! But the latest anthology, on the topic of music, meant to be the 10th anniversary anthology, is lagging a bit in its funding. As of today, they're at about the 23% mark, and not quite halfway through the funding period. Don't sleep on this one, and if you don't believe me, listen to your Auntie Spike. Pledge!
Kickstarter Alert #2: Just launched on the Kicker, Habibi: A Muslim Love Story Anthology. This one looks seriously interesting, and from a POV that's broadly underrepresented in comics at the moment. The names of the contributors aren't familiar to me, but that's kind of great? There's nothing like an anthology for getting exposed to a bunch of creators you wouldn't otherwise see, and a couple of them will be great and your new favorites. For US$15 (early bird) or US$20 (regular), you can't miss the discovery value. The anthology is being based on an extremely modest estimate of 350 copies in the first print run, so this is likely your one shot at getting a copy.
Once In A Long Damn Time Alert: I don't recall ever seeing Raina Telgemeier put original art up for sale previously, but she's done so now to support the Southern Poverty Law Center. Seventeen pieces are now up at eBay, with the auctions running another eight days. Want a complete set of Raina, her parents, and her sister Amara? Maybe Cat, Maya, Carlos, and Uncle Jose from Ghosts? Five members of the Baby-Sitters Club? The cast and crew of Drama? This is your shot.
Averted Crisis Alert: John Allison told us back in April that he was wrapping up Tackleford and all the comics that take place there. Over the summer at SDCC, he told me that it would happen at the end of the year. If not all-Desmond, all the time, it looked at the very least like we'd be getting some Robert Cop and that's all right. But plans sometimes take a backseat; when your brain wants to stay on its current course, you listen, and thus there's an announcement at the top of the page over at Bad Machinery:
IMPORTANT ANNOUNCEMENT: Scary Go Round has been un-cancelled. Stories will now continue in 2018. Danger averted.
For the record, I have zero problem with this.
---
Spam of the day:
This guy reveals how to get a ?rock hard? boner in less than two weeks
Really? I can usually manage in no more than 3-4 hours. This is not to brag
_______________
¹ Sorry Keen Soo, Jorge Cham, and Dante Shepherd. Y'all are great, but Angela's got swords, corgis, and moustaches.