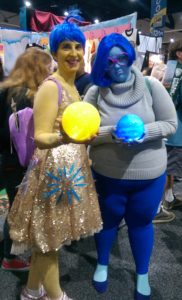 Comics is the best thing ever, and comics will break your heart, sometimes in the same moment. On Sunday morning, I met up with Pat Race and we went to see if we could get into the Art of Steven Universe panel. Thanks to exhibitor credentials we were there mere minutes after the crowds were let in, and the line was already five times longer than could be accomodated. Bang at 10:00am, Rebecca Sugar and Ian Jones-Quartey arrived at the room, flanked by three enormous dudes in black suits and earpieces. They entered the room to a roar of welcome.
But in that five second window, Jones-Quartey and I locked eyes and nodded. In the past he's been kind enough to drop by the Dumbrella booth to tell me about what happened in panels that I couldn't get into, and I met Sugar for the first time years ago when they chose the booth as a meeting point. That couldn't happen anymore, at least not until there's a new fantastically popular thing that people move onto; setting foot on the floor of the show that they've attended for so long would immediately cause a stampede and people would almost certainly get hurt. Success has cut them off from a place they called their own; that necessary isolation will pass eventually, hopefully in a gentle landing rather than a crash, but in the meantime there's got to be a tinge of sadness there¹.
I was lucky enough to spend time with both Meredith Gran and John Allison at various times over the show; one just wrapped a long-running acclaimed webcomic, and the other is in the process of wrapping up an even longer-running acclaimed series of webcomics. There were plenty of tinges to go around as they spoke about what's next, but since I didn't explicitly get them on the record, I'll wait for them to share their news themselves. I will say that Allison seems adamant: when the Tacklefordverse ends later this year, it'll be all-Desmond, all the time, in every medium known to present or future science. I predict in ten years the largest booth on the floor will be from the Desmondland division of DesCo. All hail Desmond.
And then it was done and we made our ways apart — pixelsmiths and mad toymakers, semireputable cardgame mongers, various teens, itinerant musicians, Alaskans, Brooklynites, Texans, Canadians, booth monkeys, voice actors, cartoonists, and other dregs of society. My people. They'll convene again at various times and places, and the tinges will continue, each success extracting its price, nothing ever being entirely good or entirely bad². Godspeed, you crazy creators and fans. Get where you're going safely.
Stuff Got:
Nidhi Chanani very kindly gifted me with a copy of her latest art collection, and Shing Yin Khor a small print of a cordless drill from her Shop Class series. We had not met before and she is rad. Oh, and Pat Race went and stood in the line for the Steven Universe 7″ soundtrack and gave me one. Pat's the best.
Cosplay:
In addition to Joy and Sadness up there, Team Zissou were rocking it; I didn't ask if they had the Speedos or not.
---
Spam of the day:
china pregnant women are already contending last Olympic ice hockey
Ohhhhh … kay.
_______________
¹ Later that day I recalled how Sugar has said that Steven Universe's Beach City is based on the seaside town her family would vacation at when growing up. I have no doubt that it would be impossible for her to wander the boardwalk and beach these days; it would take hours or less for word to spread and the fans to descend.
² Except for the squeals of delight from the Monster Milk booth when fans of Dream Daddy realized that Nate MacDonald was the announcer from the game. When he boomed DATE THAT DAD at one point, the joy was infectious.