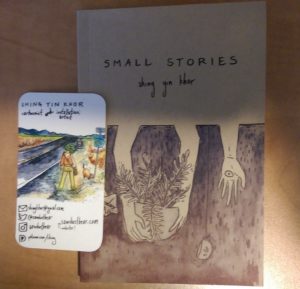 Today, I bring you news that the Becky Beaton cancer fundraiser has cleared CDN$126,000, which is friggin' amazing; I'm certain that the entire Beaton family thanks you. For some added context about what a bastard this particular cancer is, Kate shared the story of a friend of Becky's with the same diagnosis at the same time and about the same age. Becky's still with us, and if 2474 donors (and counting) have anything to say about it, she will be for some time.
I also bring news that Shing Yin Khor's Small Stories collection (which I tweeted about here, and I stand by every word), containing the superlative Desert Walk and nine other stories of feelings, arrived today. I think I'll be spending a lot of time on this one. It's a good time to feel what it's like to be somebody else. More on this one tomorrow.
The world is kind of terrible, so let's do our best to not make it worse.
---
Spam of the day:
MEET HOT RUSSIAN WOMEN
Then there's these assholes, trying to get my attention by trafficking mail-order brides. Did you not see my heartfelt plea about not making things worse? Sheesh.