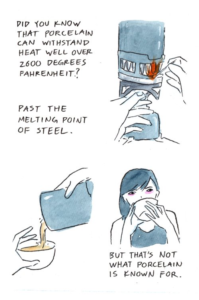 I first met Shing Yin Khor over the summer at San Diego Comic Con; I was most familiar with her work at The Nib, and I really, really love what she does with watercolor. She's super cool in person, too.
Earlier today, she tweeted out a short story, 20 pages across five tweets and I can't stop reading it.
Desert Walk is about finding peace and solace in empty places; away from noise and other people and the ghosts you carry with you, and especially away from the one that hurt you. The hurt isn't emotional or metaphorical in this story (or, I should probably say isn't just emotional or metaphorical), it's the hurt of trauma and assault.
There's solitude and desert sounds, bugs and bunnies, a digression on how strength and hardness are different things, in minerals and porcelain and people. How things can be broken and repaired and how sometimes the repair is beautiful and sometimes it's worse than the damage. There's memory and the contemplation of forgiveness, and the cleansing power of hate applied in due measure.
It's beautiful. It's haunting. It's little bits of life shared from the edges, and we read and know that the horrors that we imagine from the oblique references are not as terrible as the reality. It'll just take a few minutes to read Desert Walk, then a few more to read it again, then more as you fall into individual pages, the details singing across your eyes, and then read it again from the middle, jumping back and forth.
It's a poem in pictures, a step inside somebody else's skin for as long as you can't stop reading it.
---
Spam of the day:
You've Received a Bass Pro Shops Reward – Details Inside
Now I know for certain that you don't have any idea who I am.