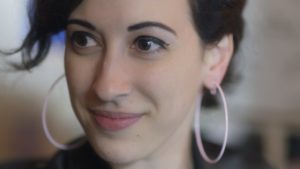 There's days when I have a lot to say, and there's days when stories speak for themselves; today we're in the latter category.
First up, Erika Moen — cartoonist, force of nature, hell of awesome — dropped some news on us yesterday [the story is SFW, but the side panel ads are probably not] … she's headed to Sweden:


Oh my gosh, I'm making my first trip out to Sweden!!! If you're in the neighborhood, please come say hi to me at the Stockholm International Comics Festival this May 20 – 21!!!!

Or the Stockholms Internationella Seriefestival; if you speak Swedish, hit up the link. If not, here's the translation, which links to bits about the festival's Small Press Expo (described as the "official sibling" of the annual event in Maryland), and details on the international guests.

If I'm reading everything correctly, the SIS will take place at Stockholm's Kulturhuset Stadsteatern, in Sweden's only specialist library for comics, Serieteket (here, for those of you that like maps). Free admission, and I think the times are 11:00am to 5:00pm (CET, or GMT+2), on Saturday and Sunday (20 & 21 May).

On my way back from Comics Camp (start here, if you've forgotten, and work forward) I had a layover in Minneapolis, and thus was able to visit with Rosemary Vallero-O'Connell, about whom I've written lots over the past year or so. She mentioned that in addition to all the work she's been doing since graduating last May, she'd been in talks with VICE News to do an interview about work/life balance and the financial end of a creative career. Turns out that it happened, and now you can see it.

It's a huge topic (things dealing with money — peripherally or directly — took up many hours at Camp), and not one where all the subtleties can be done in a few minutes. Heck if they didn't do a damn good job laying out the boundaries of the issues, though.

I found the most compelling part to be Vallero-O'Connell's frank recognition that there's a very fine line to tread, with both too many and too few jobs offering risks. Don't have enough gigs, you don't make money and you can't pay your bills. Accept too many¹ and you risk spreading yourself too thin² or injury — meaning you can't sustain the money and can't pay your bills³.

There's no grand solution offered — not that there could be — but just acknowledging the challenges is tremendously valuable. Vallero-O'Connell is starting to get a handle on what the career looks like (not just for now, but as a sustainable effort over many years), and seeing her present the quandries and puzzle them out is going to help others find their balance quicker than they would otherwise. Give it a look.
---
Spam of the day:
KOHL's: Antiquated Dept. Store…
Are … are you trying to get me to click on your fake KOHL's gift card by negging them?
_______________
¹ A constant temptation for freelancers, particularly those new to the game.
² Leading to substandard work or burnout.
³ Unspoken in the four minute run time: even if you accept the exact right amount of work, you can't guarantee you actually get paid what you're due on a prompt basis, meaning you can't pay your bills. I'm sensing a theme to the freelancer's life.