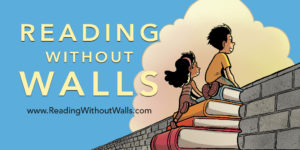 I can't believe I missed talking about this earlier, and here's April more than halfway over. Okay, enough recriminations, just listen up, 'cause a genius is talking.
No, not me; not even vaguely me. Gene Luen Yang — MacArthur Fellow, current National Ambassador for Young People's Literature — has declared April to be the time for everybody (okay, it's really aimed at younger readers, but let's make it everybody) to Read Without Walls. Declaring things is one of the things you get to do when you're an ambassador, along with getting out of parking tickets and getting to go through the quick line at Customs.
Actually, Read Without Walls has been Yang's mission statement since he was inaugurated in January of last year, but now he's making that aspiration into a specific challenge, with the help of the people at Macmillan (parent company of :01 Books, his longtime publisher).
Yang's three-part challenge to you is to do one of:
Read a book about a character who doesn't look or live like you.
Read a book in a format you don't typically read — graphic novels, poetry, audiobooks, plays.
Read a book about a new subject you don't know much about.
And after you've done so, pass the challenge on to others. And hey, why should kids have all the fun? You've got time in April still (and if you watched Yang's video, you know that he's urging you to do so every April, so make plans for next year now), not just to encourage the young reader(s) in your life, but to spread your own wings a bit.
I'm going to interpret the challenge to say that the pass-along may include specific recommendations. So here's mine: I've been digging into the collected writings of Ta-Nehisi Coates; yeah, it's not a book, but Coates has written a hell of a lot of essays, and reading through them is the equivalent of a book.
I'm not sure that any piece of writing has had a more profound wake the fuck up effect on me than The Case For Reparations¹, so that's my recommendation. It's nearly 16,000 words, so set aside an hour and take your time with it. And if you want to share what you're reading, the comments are open down below.
---
Spam of the day:
Pentagon Insider's Secret IRA Technique Exposed
When I think, Gary, where are you going to get solid information on how to save safely for your future, well-deserved retirment?, the answer is usually not, The Pentagon! So unless your Pentagon insider is recommending a systemic, long-term, dollar-cost-averaged program of broad-based, low-load index funds, I don't wanna hear it.
_______________
¹ Even more so than Between The World And Me, perhaps because the shorter length lent a sense of urgency to Coates's argument.