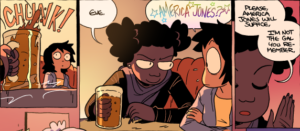 News and such. You know the deal.
Item! We have word of new names to add to our MoCCA Fest 2017 exhibitor page and one bit of additional information. The first new exhibitor will be the exquisite Jess Fink, who tells us she'll be at the Top Shelf table (A101 & 2) on Saturday, starting at 2:00pm. The second new exhibitor will be Mike Holmes, who will be debuting his newest collaboration with Gene Yang, the third book in the Secret Coders series¹. Mike will be at table J278 B, alongside his show wife (and, incidentally, wife wife) Meredith Gran.
Item! Speaking of Meredith Gran, this is your occasional reminder that Octopus Pie continues to get better with every damn update, and the story mechanic of having a party for protagonist Eve Ning in honor of her job catching fire is brilliant. The strip may be on the glidepath to wrapping up, but by glob we'll get to see all the old faces one last time. Whether it's semi-recurring characters or formerly major characters that we haven't seen for-damn-ever, everybody will get their threads wrapped up.

Case in point: the desparkled America Jones, onetime throwaway villain, now sublimating her evil tendencies with roller derby and Nazi punching², making her just another one of the weird people in Eve's orbit. I've come to believe that we'll see the pea-wiggle guy, Mr Pedals, and Olly's nephew before everything concludes. And you know what? I am one thousand percent okay with that. If Gran wants to drag out the conclusion of this strip so that we find out what's up with the ducks or James, I am ready and willing to read those strips.

Okay, maybe not James. That guy's a dick.

Item! Via the twitterfeed of "Uncle" Randy Milholland,news of a Kickstart you may want to check out:


So @TheOnlyTrout has a Kickstarter. He's a good guy who works hard on his comics. Please consider backing it.

I missed this, so thanks to Randy for letting us all know; John Troutman's been doing webcomics for as long as I can remember, and always produces projects that are unlike anything else you'll find out there. The campaign in question is to print a collecton of The Gospel Of Carol, which is the story of Jesus's twin sister, the one that got left out of all the Gospels because … well, you know. She does all the work, He gets all the credit.

There's 25 days to go and Troutman's not quite halfway to the exceedingly modest US$3000 goal (with additional gospels and epistles as stretch goals, up to US$6000). Look, you're not going to find a more redeeming (yet heretical) comic out there, so give Carol a look, yeah?
---
Spam of the day:
20?Of?The?Most?Hilarious?Dirty?Photos?Ever
Your crappy attempts at identity theft (with your non-Roman characters designed to evade keyword matching) might actually work better if you included the near-porn photos your promise. Just a thought.
________________
¹ If I remember correctly, Yang told me once Secret Coders will run 5 or 6 books. Certainly, book 3 ends on a cliffhanger (thanks, as always, to Gina Gagliano at :01 Books for the advance copy).
² I realize that Nazi punching is a 2017 thing but honestly? It would not have been out of place in America Jones's character back in 2008 when we first met her.