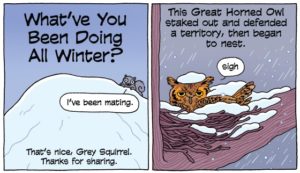 There's a webcomic that I don't mention nearly enough, because it's always just so good, what new need be said? Your Wild City is the brainchild of science educators Rosemary Mosco (words) and Maris Wicks (pictures), and teaches us about the undomesticated critters that inhabit our cities and towns. It's great stuff.
It's also been on a bit of hiatus, on account of Maris Wicks has been off in Antarctica at a research facility, learning stuff that she will share with the world via comics. Regular readers may recall she did roughly the same thing this time last year on an ocean-going research vessel looking at weird rocks. Well, hiatus is over, Wicks is back from the far antipodes, and Your Wild City resumes today with stories of what various critters do over the winter: your gray squirrels, your great horned owls, various insects, turtles, Marises Wicks and Rosemarys Mosco are all looked at with the naturalist's eye. Welcome home Maris, good job guarding the couch Rosemary, and everybody go check out the prime info and hearty laugh-chuckles.
So the pop culture commentary machine that is The Nerdist has a comic book component, in the form of the interview series known as The Nerdist Comic Book Club. Coming up on the 18th of April, TNCBB will be in New York City and talking to webcomics own Yuko Ota & Ananth Hirsch of Johnny Wander, Lucky Penny, Barbarous, and many, many other awesome comics. No word yet if their awful (but adorable) cat Cricket will be part of the show. Show runs 8:00pm to 9:00pm at the Peoples Improv Theater with tickets apparently required, but free.
Kickstart alert: David Willis is doing the KS preorder thing for Book Six of Dumbing of Age; in keeping with tradition, the subtitle is long and ridiculous. The Machinations Of My Revenge Will Be Cold, Swift, And Absolutely Ridiculous (for that is its name) will cover strips from late August 2015 to early September 2016, plus two dozen strips not previously released to the interwebs. The campaign went up about 15 hours ago (as of this writing), is currently sitting at 112%, and runs for 30 days in all.
As noted the last five times around, Willis's Kickstarts are pretty much guaranteed to immediately fund, to have a completely predictable range of goodies irresistible to his fans, and fulfill on time. He's basically mastered the art of using the crowdfunding platform as a pre-order mechanism so that he doesn't have to go into speculative debt to print a book for which there may not be demand.

It's a vital skill to today's independent creator, and probably nobody has figure it out better than C Spike Trotman; I mention Spike because of a general discussion that broke out on Twitter regarding the economics of freelance art/comics making, with more people than I can count pointing to one tweet or another and declaring Thread.

The best two takes I saw were from Spike (from the perspective of a small publisher, with advice to new creators, and a supplement regarding new opportunities in self-publishing) and Rian Sygh (from the perspective of the completely indie freelancer and working for publishers).

I've seen one or two people try to make them into dueling and intractable opposites, but I really think they're saying the same thing — comics works on small budgets, and there are publishers out there that will be upfront and honest about what they can afford to pay, and there are publishers out there ready to screw young and hungry creators. Make sure you know which is which.
---
Spam of the day:
Dr. Oz: Hack
Why, yes! Yes, he is a hack!
Your Brain For More Focus, Clarity, and Energy
Oh. Subject line got cut off. No thanks, I don't need your fake Dr Oz-approved mind-hack gum.