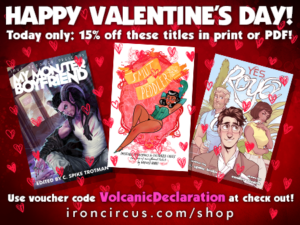 So this is gonna be quick so I can get some tea and sleep.
Coincidentally after yesterday's noting of Iron Circus's distribution deal putting new books into stores, C Spike Trotman is making it worth your while to get any of the Smut Peddler series of books — in print or PDF — at a discount, for today only:
With the Smut Peddler Double Header Kickstarter rewards shipping out to backers, we're finally able to offer the print editions of My Monster Boyfriend and Yes, Roya in the store! Additionally, the 2012 edition of Smut Peddler is back in print at last! Finally, it is Valentine's Day, so we thought we'd give you a little love.

Today only, you can use the voucher code VolcanicDeclaration at check out to get 15% off on these three dirty books. This applies to both the print and PDF editions, too.

So get your Valentine something romantical or treat yourself! Today is all about lovin!
Thanks for all the love facilitation, Spike. Rest of you, get on that¹. Oh, and while I'm absolutely, mathematically certain that Spike decided to do this weeks ago — she is not a woman that leaves things to chance — if by any happenstance my post yesterday prompted her, you're all welcome, and please enjoy the high-class erotica.
---
Spam of the day:
Go here to help out someone's super hot mom
You know what they say: every horny MILF slut is someone's super hot mom, so treat her right [SFW, promise!].
_______________
¹ And get your mind out of the gutter.