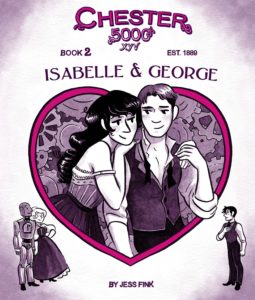 Oh, that's not what you call it? Internet Jesus was the first person I ever saw to point out that Saint Valentine's Day was originally a Roman celebration of blood, werewolves, and sex called Lupercalia; they've got cards and everything. ANYway, if you're into the modern interpretation of sexytimes without the blood and werewolves, read on.
Because webcomics (and even webcomics collections) often don't make it into traditional distribution channels, it is sometimes months or even years before a long-since-available webcomic collection makes it to comics shops, or regular bookstores¹. Case in point: I've had my copy of Chester 5000: Isabelle And George by Jess Fink for months now (and it's been in her TopatoCo store for nearly as long), but even with Top Shelf Comix behind the book, it's lagged getting into the stores.
Chester 5000: Isabelle & George comes out in stores & on Amazon tomorrow, VALENTINES DAY!! ? ? ? http://www.topshelfcomix.com/catalog/chester-5000-book-2-isabelle-george/954 …
Not sure if those heart emoji are going to come through or not. They're cute, so I hope they do. [Editor's note: they didn't.]
Anyway, if you haven't read Isabelle And George, it's mostly a prequel to Chester 5000. That is, it tells the story before Chester 5000, then there's a tiny bit in the middle that recaps the events of the earlier book, then adds a coda to the now-expanded cast and all their various combinations of friendship, love, and hot, hot Victorian boning down (with or without robots).
But seriously, though — even though both Chester books are definitely (defiantly, even!) adults-only, there's a sweetness to them, a sense of empathy towards the characters that is utterly charming as well as pulse-quickening; Fink is unparalleled in her ability to make us care about her characters as people, and to be happy for their joys and orgasms.
Get a copy for the love of your life and let it inspire you towards feats of horny werewolfdom. Don't give it to your kids (even though, being largely wordless², it's an easy story to follow), and probably don't give it to your mom. Your cool aunt, though, the one that your parents vaguely warn you about, but who takes you ballooning over river gorges? She'll love it.
---
Spam of the day:
:):)LetsPlayCALLOOFBOOTY:):)
Gosh, @SeXXXyChikk69, thanks for the offer, but did you really mean Call Oof Booty? The Oof makes it sound less fun and more like moving furniture, you know, like Oof, this damn sofa is heavy, gonna be sore tomorrow.
_______________
¹ And mad props to C Spike Trotman, as Iron Circus's distro deal means a whole lot more webcomics gonna make it to a whole lot more store a whole lot quicker. My Monster Boyfriend made to the trade last week, concurrent with its initial release; Poorcraft: Wish You Were Here never would have made it into shops widely without the deal, and is now playing distro catch-up.
² Seriously, the only wordless story that's easier to follow would be one of Andy Runton's Owly books. C5K: I&G would make Owly and Wormy hell of blush but they'd seriously be happy for all involved.
Don't look at me like that. Find any cluster of comickers in the bar on a convention night, and they're drawing their characters getting up to shenanigans. I seen some things that Owly and Jellaby have done that'll turn your hair white.