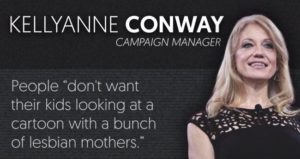 There's nothing in Art that's not political, pretty much by definition. Art shows us what life is like, or what it could/should be like, and how we got to where we are and how we get to where we could/should be are all things that must be decided across the entirety of a population. I bring up this thought because of something that came out of the imperial mouthpiece on Coruscant:
People "don't want their kids looking at a cartoon with a bunch of lesbian mothers." — Kellyanne Conway
Oh, it is on now. Because as I happened to be talking with Christopher Hastings about on Friday night, what Rebecca Sugar, Ian Jones-Quartey¹, and the rest of the Steven Crewniverse have accomplished is nothing less than a story about how to be a better, more rounded, more empathetic person. It's precisely what people should want their kids looking at, even if they don't realize Steven's moms are genderless magic space rocks and not lesbians, come on.
Steven Universe. Adventure Time. We Bare Bears. Ghosts. Goldie Vance. The Unbeatable Squirrel Girl. And lots more comics and cartoons and graphic novels, with what in common? They're fairly dripping with empathy; they go out of their way for their protagonists to find ways to try to understand whoever is in opposition to them², and when it comes to fighting? It's a last resort, one done out of obligation rather than joy³. This is exactly what anybody should want their kids looking at, learning, becoming. Or as Saladin Ahmed put it:
this is true. a bunch is not enough. my kids deserve nothing less than a *battalion* of cartoon lesbian mothers.
Well said. Oh, and a reminder that the next Steven Bomb hits next week; let's all watch it and do our best to live up to its ideals.
---
Spam of the day:
gary.tyrrell Your Eyeshadow gift is waiting!
I doubt that, but bonus points for the "keeping your eye on the ball" pun.
_______________
¹ Yes, yes, Ian's no longer working on the show; he was all over the development of SU and he's a pretty damn complete walking embodiment of the show's best instincts so I'm listing him.
² Then again, sometimes you gotta punch a Nazi. There's no saving or understanding the corrupted, only protecting the rest of the world.
³ And in Steven's case, when realizing that there is a form of death involved, and that even imprisonment is damaging to foes? Traumatic fear about becoming a bad person. But I bet even Steven would be pretty okay with punching a Nazi.