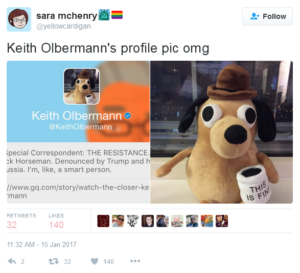 Via the twitterfeed of Make That Thing majordomo Sara McHenry, a sentiment from Keith Olbermann that a lot of us are feeling right now. Right now.
So Jeff Zugale's been in webcomics about forever (most recently as the artist on the currently-hiatused Not Invented Here, in and around his other careers (mostly doing concept art for videogame studios, fine art for John Scalzi, fronting a number of shreddy bands in his youth, and the task of bein' a dad). A lot of what he's produced for public consumption the last couple of years has been way cool spaceship drawings that he's done for fun, one a day, from sketchbook to you (typically on Twitter).

The thing about the VG industry is it can pay pretty well, but pretty irregularly. One day you're just fine, next day 80% of the studio gets laid off. I think you see where I'm going with this.

Zugale got laid off from his current concept artist job, so while he's looking for the next job dreaming up fantastical vehicles he's leveraging his strengths (cf: way cool spaceships, above) over at Patreon (which he'd rather fortiutously launched prior to losing his day job). Give him a peek, yeah? And if you're looking for an artist that can turn out anything you're looking for with skill and professionalism, give him a call.

I'm still mulling over what I will be doing at noon on Friday rather than giving any of my attention to a vulgar talking yam undermining everything our country aspires to¹, which is as good a reason as any to note that the Fleen Fight For Fungible Futures Fund² is still taking matches until the end of the Obama administration. If you have made donations since Election Day to any of ten organizations that work towards the attainment of a more perfect union, I'm matching them (in the case of recurring donations, I'm matching three months worth).

Oh, wait, did I say ten organizations? Since I started the campaign, people have sent me receipts for two organizations that I hadn't included on my list, but in retrospect I probably should have. So the list of supported causes now stands at (new ones in bold):

American Civil Liberties Union
Brennan Center for Justice
Campaign Zero
Electronic Frontier Foundation
International Rescue Committee
NAACP Legal Defense Fund
National Resources Defense Council
Planned Parenthood
Pro Publica
Sacred Stone Camp's GoFundMe
Syrian Civil Defense aka The White Helmets
The Trevor Project

I'm happy to say that every organization has received at least one donation, and that I'm receiving emails every day. Reminder: if you're a creator that had a sale or dedicated a portion of your own profits to these organizations, I'm counting that. Send me (gary, who blogs at this here website which is a dot com) the amount, the name of the organization, and how you'd like to be acknowledged (by full name, partial name, or anonymous).
---
Spam of the day:
This email is being sent in order to inform you that a new invoice has been generated for your account.
Please see the file that is attached.
Wow. A file that you helpfully include a password to open, which actually defeats the entire purpose of passwords? Yeah, no, random address that doesn't even claim to be from a company I might plausibly do business with.
_______________
¹ I know that Friday night I'll be getting reasonably drunk at the wrap party of a longrunning webcomic; since I'm not throwing the party, I trust that you'll forgive me for not supplying more details now, but I'll give you a recap next week, deal?
² For the suggestion that resulted in the name, Faithful Reader Roo will be getting a $50 donation on their behalf.