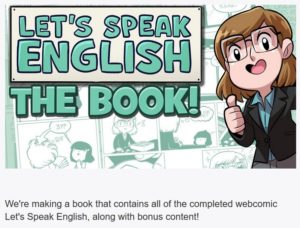 It's Christamas Eve–Eve–Eve, and even closer to Hanukkah, and everybody's wrapping up work for the week in anticipation. But on Monday, stuff happens again:
It's official! The Kickstarter for the Let's Speak English book collection will go live on December 26th! A Boxing Day Bonanza!
That would be the print collection of Let's Speak English, the comic autobio of Mary Cagle's time as an elementary school English-language teacher in Japan. Brief moments from her various days, occasional repeating characters, and a slowly diminishing sense of being a fish out of water are found through the 134 strip (or about two year) run. The only thing I don't absolutely love about LSE is that Cagle, a world-class colorist, chose to do it in black and white.
Sure, you could say that she's just following the form of yonkoma, Japanese four-panel vertical comics, and you'd be right; I just think that her adventures in Japan would have been even better with color is all. I'm greedy that way. Since she's promising us extras in the book, maybe she'll do as many weekly comics in Japan do, and toss a few full-color pages at the front. That'd be neat.
Regardless, it's going to be a fun and charming book, and I'll be keeping an eye out for the campaign come the 26th. If we don't see each other again before then, have a great weekend, have a terrific holiday of your choice, and let's all get out of this absolute stinker of a year and try to make 2017 less of a trash fire¹.
---
Spam of the day:
I Like To Play With Toys Productions
Weirdly, this was not porn spam. Crazy, right?
______________
¹ There is value and nobility in the attempt. And hey, have I mentioned the Six-F lately? Still gathering funds for matching!