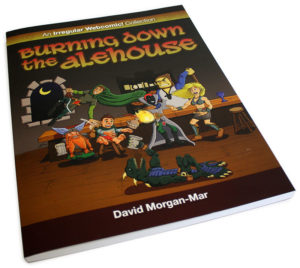 As I note every year about this time, people get busy with family, holidays, and taking the heck off from the usual grind — I'm speaking primarily of creators here, but heck, I do it too — and thus the amount of news coming out may not justify a post every day. When I have news, I'll share; when it's less than usual, I may condense into fewer days. Expect much of the next two weeks to be slight.
But before we go, there's a bit that I really ought to mention. We at Fleen have long observed Let's go to David Morgan-Mar (PhD, LEGO®©™etc from afar, and one memorable occasion in the past year, up close across a cafe table in midtown Manhattan. We've mentioned that after more than a decade and thousands of updates he produced his first print collection on the backs of a https://www.kickstarter.com/projects/dmmaus/irregular-webcomic-burning-down-the-alehouse
and the able help of Make That Thing.

What I failed to mention is that said print collection, Irregular Webcomic: Burning Down The Alehouse (a copy of which he gifted to me some months back; it's an odd experience, reading page after page of just one storyline of Morgan-Mar's, even though his site is set up to do exactly that if you want) is available for general purchase over TopatoCo way, now that the backers have been fulfilled.

The fault is mine because if you wanted it for the holidays, that's basically impossible even if you live across the street from TopatoCo's work camp state of the art shipping facility for toiling happy labor drones packing elves of pure happiness and light. But you know what endears you to giftees? Saying I am thinking about you at all times of the year, not just the Yule-adjacent holidays and I got you this I'm totally not late for Christmas, honest. It's worth a shot.

That thing I was excited about last week? The first part of it happened; the second part requires a confluence of events that are not in my control (including a general state of the world not being crazyballs bonkers) and so I'm not getting into specifics yet. Let's just say that Scott McCloud's habit of passing journalists towards me may have resulted in an interview¹ that will possibly provide some quotes and context for a story to run on a major, non-fake media outlet sometime next week. Maybe².
---
Spam of the day:
Last Chance! Make Christmas Magical for a Special Child
Sure, I'll totally do that by signing a kid up for your "official letter from Santa" and giving you all their contact information so you can get them into your databases while they're still young and vulnerable. I am completely that much of a monster.
_______________
¹ With a journalist whose name anagrams to the seasonally-appropriate A Yule Band.
² cf: the world not being crazyballs bonkers, meaning they might get to it the third week of August.