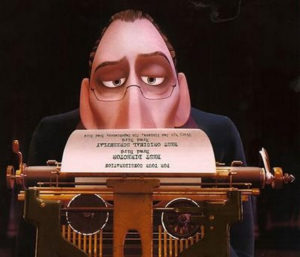 I don't want to count any chickens before they hatch — actually, I can't say that I want to count chickens ever, they're monumentally stupid birds and counting them sounds really tedious — but I may be involved in something really cool in the next two weeks or so. Fingers crossed, and as so much that involves me and webcomics, if this happens it'll be because Scot McCloud is in the habit of passing my name on when somebody's looking for a comment on webcomickry and he's busy. Your confidence in me is pretty much the greatest reward¹ I have for my sometimes tortured history of embloggenation.
Speaking of tortured history, I believe that I may have mentioned in the past that I'm not entire certain what day you could say Fleen went live. It was definitely December of 2005, and I'd been banking pieces to run on launch day, and I just neglected to pay any attention whatsoever; I've since decided to just split the difference and all it the middle of the month, which appears to be today-ish.
Some of what we did at launch (like the contributions of Jeff Lowrey and Nic Carey) have fallen by the wayside. Although it's mostly been a one-man show, other contributors have popped up from time to time, like the inestimable Anne Thalheimer and the invaluable Pierre Lebeaupin. Some things I thought I would have an abiding interest have faded, while others (like my unholy love of parenthetical thoughts) have persisted².
This is, as near as I can tell, the 3340th post at Fleen in the eleven years since launch, with one more lost to the ages; somewhere close to 3000 of those were written by me. Individual posts range from about 200 words to near 4000; I'll figure 500 on average and claim northwards of a million words, which is not bad for (mostly) frantic typing at lunchtime³.
Along the way, I've discovered on evil twin, found at least three retroactive weirdo best friends from high school, made no great enemies (except for James Ashby, but as history's greatest villain, I like to think he's everybody's great enemy) and read more wonderful comics than I can recall. Most importantly, I've been able to tell you (all two thousand or so; honestly, I'm sometimes surprised at the influence people ascribe to me when Fleen's readership is exceedingly modest) about work that I love and that I think you'd love, too (I think frequently on the speech about the discovery and defense of The New from the end of Ratatouille4).
Eleven years, more or less; new experiences still to come. It's been a blast, and despite every day I despair of finding three sentences to string together, I find myself eager for the next story, the next deadline, the next couple hundred words. See you tomorrow for the start of Year Twelve.
---
Spam of the day:
My brother recommended I would possibly like this website. He was once entirely right. This publish truly made my day.
You and me both, spammer. You and me both.
______________
¹ Close second — being told by creators that a review found something in their work that others hadn't.
² The footnotes came later. My love of Brad Guigar, the blog's official Sexiest Man Alive, was always there (sorry, Ryan North).
³ Not to mention finding and formatting the screenshots and links, an unknown (but huge) number of which are now lost to rot.
4 If you haven't burned it into your memory and need a refresher, click here .