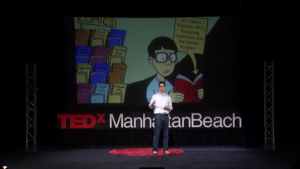 There is a very large holiday party being set up outside the classroom here at VeryLargeSoftCorp — balloons being filled with our precious stocks of helium, garbage bins being wrapped in festive mylar and foil, dance floors and bars being installed everywhere. Seriously, the reception desk outside my classroom is now stocked with mixers and garnish fruit (sadly, the booze doesn't arrive until later). I, however, will not be hanging out here until 6:00pm when the party starts, getting blind drunk, then driving home for several hours as a hazard to myself and all around me. Since everybody's gone home to get ready for the big drink-up (the taxis and Ubers are prebooked in bulk, no worries), let's finish this and I can hit the road.
In case you missed it the other day, Gene Luen Yang (MacArthur Fellow and Library of Congress ambassador) did a TEDx talk recently (it's a TED Talk, but not at the official fancy-pants conference) on why comics belong in the classroom. It's good. Go watch it because dang, as of right now there's only 594 views and a couple of them are me.
The Cartoon Art Museum continues its partnership with the Museum of the African Diaspora in this, the ever-dwindling time before it gets its own space again. Continuing the Third Thursdays tradition of San Francisco museums, next week (that would be the 15th, which is naturally a Thursday) will see an evening of storytelling in conjunction with MOAD's current exhibit Where is Here.

The exhibit is about travel and the places we inhabit, and participants will get the opportunity to make "place cards", where they write and draw about somewhere meaningful to them. It's free and open to the public, running from 5:00pm to 8:00pm, and includes admission to MOAD's various exhibitions (address: 685 Mission Street). You'll even get wristbands good for Third Thursday events as neighborhood bars and restaurants.
Okay, gotta jet. Have a great weekend, see you back on Monday.
---
Spam of the day:
One Trick to a Great Christmas
AUUUGH!, cried Charlie Brown. Not only is Christmas too commercial, now even Santa is clickbaiting!