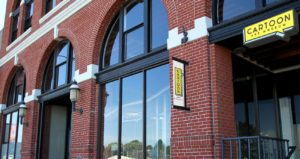 For once, a logistical screwup at work has resulted in me having more time to get something done, not less! Which is why on what should have been an uncreedable¹ day full of shenanigans, I actually have time to bang out a quick update instead of being without the luxury of time. And what an update, which I would have missed had I posted earlier!
Our long national nightmare is over. The Cartoon Art Museum will (soon) no longer be couch-surfing:
Opening to the public in the spring of 2017, with a breathtaking view of the San Francisco Bay, the Cartoon Art Museum's new location at 781 Beach Street in San Francisco is just one block from Aquatic Park, the Maritime Museum, Ghirardelli Square, and the Hyde Street cable car turnaround. The new space allows the museum to design a perfect venue for viewing, discussing, creating, and interacting with all forms of cartoon art and connecting with the artists who make it.

The 1912 brick building features a beautiful historic façade, prominent street presence, convenient parking, and easy access to and from public transportation. It offers highly visible public access to the Museum's nearly 8,000 square feet of spacious galleries with a screening area, classrooms, bookstore, library and collections facility. [emphasis original]
Having been to the previous location, that bit about parking is huge. In fact, the size is (if my memory serves me correctly) considerably more than the public space in the old location, as well. It's been more than a year, and will be longer still until the new site is open to the public, but this is among the very best possible news one could expect.
Congratulations to curator Andrew Farago, CAM's trustees and board, the members, the greater Bay Area cartoonist community, and all the ships at sea. And were I you, I'd start making plans to drop by as soon as the opening date is a bit firmed up. It's going to be glorious.
---
Spam of the day:
IT Cosmetics — 2 free beauty gifts!
I'm not sure if that IT means it, as in "it stands in for a nonspecific item" or possibly "It Girl", or it means IT as in "Information Technology". If it's the latter, they clearly are selling to the wrong crowd because I've worked in IT for decades and cosmetics ain't exactly top of the priority list for anybody I've ever worked with.
______________
¹ This time, I do get to drop a Zappa quote. Galoot Up-Date, y'all. Okay, it's just one word, but it's unmistakably Frank.