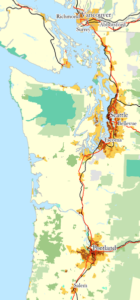 I thought momentarily that I was possibly quoting some Zappa lyrics, but Wiki Jawaka says no; I think most likely I conflated multiple different lyrics (odds are, from Joe's Garage or Thing-Fish) and with three links in close proximity, I should be tripping all kinds of SEO right about now. Let's talk webcomics.
For those who'll be in Portland next week and will be looking to either celebrate the salvation of our republic or alternately to grab one last bit of joy before the Apocalypse, Wednesday night should fit the bill nicely. The very sexy, very smart, very educational Erika Moen and Matthew Nolan will be hosting a launch party for the third volume of Oh Joy, Sex Toy, which will be the first place to get a copy if you weren't part of the recent Kickstart.

There will be raffle and door prizes of an appropriate nature, as well as the opportunity to rub elbows¹ with people that appreciate the fact that sex really resides a couple of centimeters behind your eyeballs and is best appreciated with plentiful use of that particular organ. Fun starts at 6:00pm, runs until 9:00pm², at Portland's newest (pretty sure, but you never know in Stumptown) comics shop, ,Books With Pictures, 1100 SE Division Street. Tell Erika and Matt I said hi.

For those that believe that the launch party will be in celebration mode and not Happy End Of The World Mode, and are looking hopefully towards the future (or perhaps just looking to get out of the country), next May (the 27th & 28th) marks the return of VanCAF. It's been a bright spot in the Comic Arts Fest circuit of shows inspired by TCAF, attracting an eclectic mix of creators (big names, indie, and a healthy intersection), readers, and food trucks. Showrunner Shannon Campbell has done a bang-up job shepherding VanCAF into existence and a steady upwards trend in both size and quality.

But everybody needs to step back and try new things from time to time. Ordinarily, I'd be concerned about a drop-off in quality, had I heard only that Campbell was giving up her position as the festival director. Fortunately, I heard a good deal more than that, as it was announced today that several changes are afoot, all of them positive:

The sheer amount of talent and experience on display is mind-boggling, and given that TCAF just finished a delegation to Tokyo to exhibit at Kaigai Manga Fest (and has likewise been to various European festivals), I can only imagine that VanCAF's overseas reputation (and ability to invite guests) is about to take a step up.

The only possible downside right now is that the two CAFs presently retain their scheduling two weeks apart; while not impacting either show's ability to attract guests or audience in the past, it may prove to be a logistical challenge for one organization to coordinate two shows on opposite ends of a continent in such a narrow timeframe. I'm going to place even odds on one show (more likely VanCAF) shifting to a different part of the calendar in future years.

But in the meantime, if you should want to be in Vancouver at the end of May, applications for 2017 opened today.
---
Spam of the day:
3 Habits To Fight Off Dementia.
There's a picture of what looks like a French Onion SunChip attached to the inside of a forearm with packing tape4, which leads me to believe that they want me to do this to stave off dementia. Given that they have not provided any dosing information for the chip shown — duration, weight or age restrictions, effectiveness of French Onion vs Garden Salsa, viability of TransPore easy-removing tape — this is highly irresponsible. I'm not sure if I should report them to the FDA, the USDA, or the Snack Food Association.
_______________
¹ Or whatever else you are into and can politely arrange in a consensual fashion.
² Or until whenever you and your partner(s) decide, but you gotta find someplace else to be by nine.
³ When ReedPOP bought EmCity a couple years back, speculation ran rampant that it was less about buying the show and more about acquiring the expertise of Demonakos and husband Jim, EmCity's founder. Jim's still with ReedPOP, Andrea was until today-ish.
Given the inclination that ReedPOP has towards less comic-centric shows, Andrea heading over to VanCAF is probably a both a better fit for her, and an indication that VanCAF will get even larger while retaining its reputation for excellent administration.
4 That is not the original photo from the email, it's a screenshot. I ain't stupid enough to click on or distribute that thing.