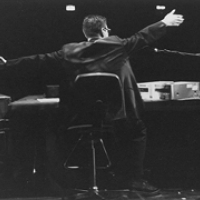 Fun fact, I was in the audience in New York City when This American Life recorded Birthdays, Anniversaries, and Milestones¹ (episode #174, celebrating their fifth anniversary), which was also my introduction to the sick, tight dance moves of OK Go. Not quite anything so momentous today, but still worth noting them.
---
Spam of the day:
?ost Affordable Way To Get A Good Night's Sleep
Booze? I'm going with booze.
_______________
¹ I met Ira Glass, and Sarah Vowell, and Russell Banks, and Ira's dad, and Dan Savage, and David Rakoff (who told me he hated me, then decided he didn't when it turned out we shared a birthday). Earlier that year I was on Wait, Wait, Don't Tell Me (but the archive doesn't go back that far) and as a result I have Carl Kasell's voice on my home answering machine, where he reads a haiku of my own invention. It was a good year for me with respect to public media.
² I possibly should have titled today's post Welcome to Erf, but honestly that was the stupidest line in Independence Day.