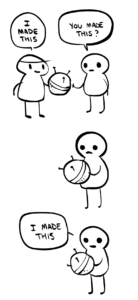 We're kinda all over the place today.
It is a truth universally acknowledged that Anthony "Nedroid" Clark is a better person that you, or I, or anybody else; he sees what is going on in this sinful world and he shares that vision with clarity and (at his harshest) gentle poking. So when his Tumblr comic on How To Cut A Pizza from some years back was apparently lifted wholesale by somebody working for Little Caesar's, he asked (very politely, I thought) for an explanation:


Hey @littlecaesars, what's the deal with ripping off my comic? http://nedroidcomics.tumblr.com/post/38264802929/how-to-cut-a-pizza https://www.facebook.com/littlecaesarsMEX/videos/1808149352787638/

(Had it been me, there would have been egregious use of swear words and a request for corporate counsel's contact info.)

That was close to 20 hours ago; a little later, I attempted to get a comment from Little Caesar's through the same Twitter account¹, to no avail. I see that since then, they have spent quite a bit of time with people who have complaints about not getting their orders for upwards of half an hour, but no comment on Clark's concerns. I sent another tweet a bit more than an hour ago, and have similarly received no response.

You know where this is going.

Little Caesar's does have a feedback form for customers with general concerns; I'm not a customer (I don't think I've bought a pizza from them in more than 20 years²), but I suspect some of you may be. If you've bought anything from them in the recent past (I leave that to your determination), maybe use the form to send a polite inquiry (include links) as to their clearly unlicensed use of Mr Clark's cartoon, with an encouragement that they reach out to him and find a mutually satisfactory path forward. Do it for the children.

How about something cheerier? Ryan Estrada's Big Data (written and produced by Estrada, starring Estrada and a whole damn bunch of other people³) is the sort of guy that can't stop giving. Comics. Guest comics. Podcasts. Video. The guy is addicted to making stuff and then giving it to you for free (sometimes a while after people who have paid for it get it, but it pretty much always shows up for free). And he's continuing that tradition with an extra Big Data tale, Zer0 Kn1ghts Before Christmas (aka The Big Data Christmas Special).

And if that's not enough of a present, I noticed for the first time at the bottom of the episodes page for Big Data (in the minisodes section, or Little Data) something that wasn't there the last time I browsed by:

Here's a selection of minisodes to listen to until season 2, Bigger Data premieres!

I think that's what they call a stealth launch; considering that Big Data concluded on The End Of The Internet As We Know It, I'm intrigued as to how he can bring everything back from the brink. I'm hoping it's just Oh hey guys, should I throw the switch on the backup? and then everything works again. Alas, As a matter of cosmic history, it has always been easier to destroy than to create and I suspect there will be a few more twists and turns; all the better for us, but unfortunate for his characters. Keep an ear out for Bigger Data and we can all find out together.
---
Spam of the day:
Open Enrollment is Here! Change Your Plan Before It's Too Late!
Wait, sealflaslight.com has open enrollment? Who'da thunk it?
______________
¹ For the record, their website's Contact Us/For the media page is a series of PR stories and no actual contact info.
² Ah, heck, I'm not fooling anybody. Feedback sent.
³ Asked by me how the heck he got the likes of Jemaine Clement, Paul F Tompkins, Felicia Day, and Cecil Baldwin to be in his audio play, Estrada responded, I asked, and I paid them.