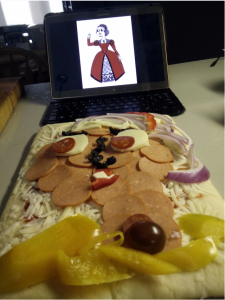 In all other respects I generally agree with him, but I am firm in this: feta is gross and its presence on an otherwise-delicious pizza is just wrong. I'm getting ahead of myself, we'll come to that bit later.
It's been maybe six weeks since David Morgan-Mar (PhD, LEGO®©™etc and semi-pro Mr Bean impersonator) announced that he was taking legal advice to determine if it would be possible to produce a printed version of Irregular Webcomic without running afoul of the LEGO corporate behemoth. It appears that the answer was affirmative, given the announcement today:


I have started work to have collections of Irregular Webcomic! strips printed in book format, for purchase.

Boom. That's the sound of perhaps the longest-running webcomic without a print collection (going on thirteen years old) giving its readers what they want. Given a deep archive filled with interleaved storylines, Morgan-Mar opted out of the sequential approach, and will be going with a themed collection:

The first book will collect all of the Fantasy theme strips up to the hiatus period which began with strip #3198. By my count, that's 504 strips. With some bonus material, we're estimating about 140 pages.

Smart move, by the way — grabbing the first 500 or so strips in IW history would require readers to hop between fourteen different storylines, and not get much resolution on any of them. Also, I'll note that the Fantasy theme probably makes the least use of actual LEGO assets¹ (other than the Me theme), as the main characters are painted RPG miniatures and not LEGO minifigs; the branded building bricks are used more for backgrounds, props, sets, and side characters. Having less prominent LEGO stuff in the LEGO-themed comic is probably a safe move from a legal standpoint, at least to start.

Morgan-Mar is presently working with the wonderful folks at Make That Thing, with plans to launch the requisite Kickstarter around the first of the year so as to avoid the holiday confusion (not to mention the tax implications of making a bunch of money in 2015 but not spending it until 2016). I'll keep you appraised of any future developments, but I will say that this exciting news. Very exciting.

Speaking of unreasonably large Kickstarted books from longtime webcomickers, Ryan North officially finished the last stretch goal of the To Be Or Not To Be campaign: he made a pizza that looked like Kate Beaton's Hamlet portrait and ate it. And then, because he is a Ryan-sized man and has prodigious hunger, he also made one that looked like Beaton's Ophelia and then ate it, too.

There was a third pizza².

This third pie resembled Beaton's take on Juliet, and with that, North announced the sequel to TBONTB, the long-rumo[u]red Romeo and/or Juliet. Key points: the book will not be crowdfunded, but rather published by Riverhead Books, a division of Penguin. As a result, a hard release date can be promised (7 June 2016), the book is in a final form (no stretch goals), and will feature 400 pages and (by my count) ninety friggin' artists providing illustrations. I ain't typing out the list but you can find a copy/paste of it below the cut.

Oh, and let me point out this one line near the bottom of the announcement:

I can't say more about the book JUST YET, but I will say this: as someone who has backed the original Kickstarter and is also awesome, be sure to hold on to your preorder email receipt. For SURPRISES :0 [emphasis original]

Done, and done!

Still on Kickstarted books, the TJ & Amal omnibus got a nice writeup today at The AV Club, and not to do with Kickstarted books at all, yesterday's Nick Trujillo news has revealed itself: Glitched is running as a Twitter account, and appears to make use of the new polling feature. IN-teresting.
---
Spam of the day:
You have missed messages vindication Cordially Skype+ service
Weird, it's almost like I'm being invited to click on links of unknown provenance by services that I don't use.
_______________
¹ Or maybe the Space theme, for similar reasons.
² cf: Ryan-sized man.
Natasha Allegri, John Allison, Kate Beaton, Brandon Bird, Boulet, Vera Brosgol, Emily Carroll, Alex Culang and Ray Castro, Anthony Clark, Rebecca Clements, Tony Cliff, Becky Cloonan, Eric Colossal, Matt Cummings, Evan Dahm, Willow Dawson, Lar Desouza, Aaron Diaz, Raw Fawkes, Jess Fink, Michael Firman, Meags Fitzgerald, Gillian Goerz, Dara Gold, Zac Gorman, Meredith Gran, KC Green, Nick Gurewich, Brice Hall, Dustin Harbin, Chris Hastings, David Hellman, Erica Henderson, Ian Herring, Tyson Hesse, Mike Holmes, Emily Horne, Andrew Hussie, Jeph Jacques, Chris Jones, Los Angeles resident Dave Kellett, John Keogh, Karl Kerschl, Eric Kim, Jon Klassen, Lucy Knisley, Gisèle Lagacé, Braden Lamb, Kate Leth, Joe List, Sam Logan, Mike Maihack, David Malki !, John Martz, Brian McLachlan, Kagan McLeod, Dylan Meconis, Erika Moen, Carly Monardo, Randall Munroe, Ethan Nicolle, Shelli Paroline, Emily Partridge, Justin Pierce, Nate Powell, Joe Quinones, Sara Richard, Mike Rooth, Jon Rosenberg, Andy Runton, Marguerite Sauvage, Evan "Doc" Shaner, Kean Soo, Kevin Jay Stanton, Rich Stevens, Noelle Stevenson, Annie Stoll, Alex Thomas, David Troupes, Jeffrey Veregge, Michael Walsh, Pen Ward, Zach Weinersmith, Lucie Whitehead, Tony Wilson, Sarah Winifred Searle, Steve Wolfhard, Chip Zdarsky, and Jim Zub.