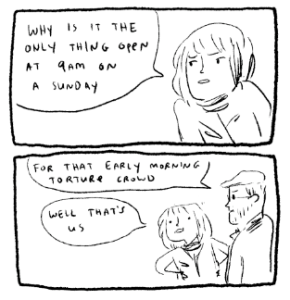 I got more comments on the post last week where I mused on the lack of a single, highly-visible song with which one might reference the grand T-Dot than any other recent topic. And here we are again with the news coming from that noblest of cities.
To start with, you got your Chris Butcher, retailer, showrunner, relentless promoter and lover of comics and those that make them, and real-life counterpart to the best character in Scott Pilgrim's world. He's been a major force in Toronto becoming a center for the comic arts, and it seems that scarcely a week goes by that he doesn't get to announce something cool. Today, it's the TCAF pop-up shop in the Toronto Reference Library, launched for the most recent year-end holiday season, with the promise of converting to an ongoing retail endeavour. Today, that conversion comes true:


The Toronto Comic Arts Festival is thrilled to announce that its festival shop is here to stay for the foreseeable future! Located inside Toronto Reference Library at 789 Yonge Street, we're pleased to announce that the shop has been newly rebranded as Page & Panel: The TCAF Shop (with a spiffy new logo design by illustrator Chip Zdarsky), and the store will continue bringing the very best of comics, graphic novels, art, design objects and book culture merchandise to Toronto.

[Please note that the logo mentioned does not feature even one set of genitals.]

Page & Panel already has author events planned for tonight (for Toronto anthology comic Monstrosity 2), 30 March (Carson Ellis), and 1 April (Jim Zub), as well as exclusive merch from local creators like Kate Beaton¹ and John Martz. Congrats to everybody at TCAF and TRL for making this happen.

Staying in Hogtown and speaking of Jim Zub, everybody knows that like every week is Jim Zub week down at the comics shop, but there's a special coinciding of Zub-owned comics coming next week. 25 March is when we'll see the release of both the first issue of the last Skulllkickers (aka the series that really launched Zub's current career trajectory) story arc, and the first issue of the second Wayward (aka the series that took all the hard work that Zub's put in since Skullkickers #1 and bumped it up even higher) story arc, along with the trade paperback of the first Wayward trade collection. While it seems the dude's got comics coming out all the damn time, I'm declaring next Wednesday to be Zubday.
And rounding out our tour of The Big Smoke, Ryan North² has some news for us today regarding the interactive game version of To Be Or Not To Be:


DID YOU KNOW:

There's now an Android and iOS version of this game, out THIS VERY DAY??

Yesssssss it is a FACT

I believe that this means that every single possible vector for distributing North's CYOA version of Hamlet is now covered. If you don't own at least one, there is something distinctly wrong with you.
---
Spam of the day:
Going time for the furnishings shop in Gloucester example
I am utterly unable to parse what this was meant to convey.
_______________
¹ Speaking of whom, Beaton is back in The Queen City after her book-promotion trip to Germany which she has comic-chronicled here and here. They aren't trip-home-to-see-the-family comics, but if you've ever wondered about medieval German torture devices designed to wreck your butthole at 9:00am on a Sunday morning — and I sincerely hope that you have — then these will be right up your alley.
So to speak.
² AKA The Toronto Man-Mountain, AKA He Who Has Returned, AKA Lord of Castle North.