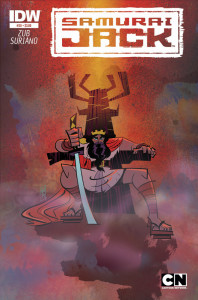 Departures and arrivals, signs and portents all up in this thing today.
I took it as a good sign back in 2013 when he told me that before the first issue of Samurai Jack hit the stands, it had been extended from a five-issue miniseries to ten issues. It was better news still when it became a fifteen issue series, and then twenty. It was revealing to see how he alternated between five-part stories and shorter stories in five-issue chunks, and since he never knew when the the five-issue extensions would end he made sure that every fifth issue would come to a conclusion that could serve as a series finish.

Good plan, as it turns out:

We launched pretty strong, strong enough that our five issue mini-series was almost immediately bumped up to "ongoing" status, but we've hit a point in the natural single issue sales attrition cycle where IDW isn't guaranteed to see profitability on #21-25 so they decided to end it at #20 and make sure we weren't cut off midway through a story line. I absolutely respect that and appreciate the heads up so we could make our last issue extra special.

Read the whole thing; Zub remains the classiest guy in comics (in addition to the hardest-working, having put to bed 1000 pages of comic script last year), without an ounce of irritation for his publishers; it's sad, but it's business, and he's got plenty of further outlets for his creativity (this year we'll see Samurai Jack, Skullkickers, Munchkin, Baldur's Gate, Wayward, Conan/Red Sonja, and who know how many other projects).

Best of all, he can stand proud of his work, having written for a well-beloved character so well that the only reaction I've seen to the news of the series wrap-up is Aw man, that's a bummer. So well done, Mr Zub — we'll miss Samurai Jack, but now there's room in your schedule for another one of those myriad of ideas you're just waiting to unleash on us. I'll call that a fair trade.

As may have been mentioned on this page once or twice in the past today is the day that Scott McCloud's The Sculptor comes out, and all indications are that people are eager for it. My feelings on the book are on the record, and I am looking forward to McCloud's talk this evening in New York City. But could I — could everyone who's read the book and universally loved it — be wrong about this book and its place in McCloud's oeuvre?

Nope, and here's why: when I got dressed this morning, without any planning or prep on my part, I picked a t-shirt from the top of the stack and my not-quite-awake brain didn't register which one it was until I started to write this post. I swear I'm telling the truth, and if people are allowed to believe that a lucky jersey or pair of socks is enough to help their favorite team win a big game, I'm allowed to believe that a shirt will herald the success of this book.
---
Spam of the day:
Hello. And Bye.
Good timing, anonymous crap-merchant. Good timing.