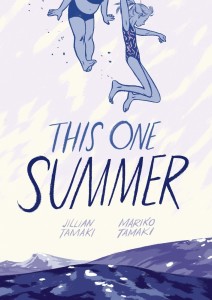 See, I thought today was going to be all about Scott McCloud's previously-announced interview in The AV Club, but then a bunch of other stuff happened, some of it literally historic. Let's dive in.
We'll start with McCloud, who is all over the damn place these days, what with The Sculptor¹ coming out tomorrow and all. With any luck, I'll get a chance to congratulate him in person either before or after his talk at the 92nd Street Y tomorrow night. McCloud's conversation with Oliver Sava (who writes really well on comics) takes as its starting point a collection of seven comics works that deal with artistic expression and frustration. It was a really great conversation before McCloud got to what I thought was the most significant part:


Well, I suppose this would be a good time to offer my mea culpa that this list I picked for you is a bit of a sausage fest. I could have included some works by women artists that might have fit the theme, but I wasn't sure that I could talk about them very well without a good re-reading. Lynda Barry's What It Is would have been a really good addition. But I just didn't have time to re-read everything, and that one would have required a re-read at least. But I think that probably the single most important trend right now is the coming army of girls reading all-ages comics who will be moving into the industry. And I think within about eight or so years, we'll have a majority female industry. I think there's going to be a massive shift in terms of who writes comics and who reads comics. So again, sorry that these are a bunch of guys in this list. That was a matter of circumstance. A lot of my favorite comics happen to be by women but — This One Summer, for example — not about an artist. So I was out of luck. I love that book.

Nice timing from McCloud, because this morning the American Library Association, as is its custom during its midwinter gathering, announced its literary awards, and This One Summer by Jillian and Mariko Tamaki was recognized in two separate categories.

Before we get too far into this, I should note that most of the ALA-associated awards have two tiers: the actual "award" or "medal" itself², and a number of "honor" books in the category. The honor books are not a case of it's-an-honor-just-to-be-nominated; going through the lists of winners for the past few years, it is entirely credible to me that the appropriate jury selects a short list of equally-worthy books, chooses one at random as "the" winner and designates the others as the honor selections — they're that good.

So: This One Summer was announced as one of four Honor Books for the Michael L. Printz Award for excellence in literature written for young adults. And then a little later, it was named as one of six Honor Books for the freakin' Randolph Caldecott Medal — you know, one of two literary awards you've ever heard of — for the most distinguished American picture book for children.

Please note that no graphic novel has ever been recognized for the Caldecott before today, nor for the just-as-famous John Newbery Medal for the most outstanding contribution to children's literature (that would be the other one you've heard of). So I'm not exaggerating when I saw it was an historic occasion, especially when you consider that a few minutes after the Tamakis made history, El Deafo by CeCe Bell also made history when it was named one of two Newbery Honor Books. Today was the day that graphic novels were recognized as the best of the best in children's books. That's a pretty damn good day for comics.

Oh yeah, and it's also Saint Groundhog's Day (the day that I consider to be the start of my relationship with my wife), which means that yesterday was the latest birthday of Dinosaur Comics. For twelve years now, Ryan North has relentlessly seeking to answer the question How many different blocks of text can be fitted to exactly the same six panels of art?, the answer to which is apparently Goin' on 2800.

It is also-also fully-official launch day for the all-new You Damn Kid³, the strips since September being the result of a retooling and soft launch. And speaking of returns, after a lengthy hiatus (necessary for multiple very good reasons), we even have a new Help Desk today, which tells you everything you need to know about this year's technological buzzphrase. Like I said, busy day.
---
Spam of the day:
Bardzo dobra publikacja. Dzi?kuje za to Pa?stwu!
I am told that this is Polish for Very good publication. Today for shoes to you a!, which I believe may be a reference to the longrunning and well-beloved webcomic No Shoes For Tuesday (sorry, I meant Brak Buty na wtorek).
________________
¹ My review here; it's a masterpiece and I'll be buying a copy tomorrow, since apparently there's a small but crucial difference in the color palette. So all those glowing reviews you've been seeing? We've been seeing a version of the book that McCloud considers inferior and lacking the impact of the final revision.
² Which appears to generally go to just one book, although the wording implies that there may be multiple winners.
³ Longtime readers may recall that my love for YDK is complete, and it will always be part of the blogroll because no matter how long Owen Dunne may step away from the strip, he will always come back. Recall also that the very first webcomics purchase I ever made was a combo-pack of YDK's print collection, a sketch of Jethro, and a shirt proclaiming itself to be the home of the Frog Rocket Wiener.
Since then I have sunk an amount of money into webcomics merch and art that I am frankly terrified to total up, as my heirs and assigns may seek to take away my ability to make my own financial decisions because clearly I am not rational. This is all Dunne's fault.