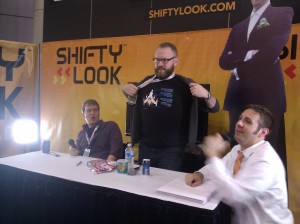 Several repeat visits today; sometimes that's just how things reveal themselves.
Speaking of Penny Arcade, Child's Play, etc: The progress graph on the main page is a little out of date, as the recent formal dinner/auction raised more than US$250,000 and have brought the year's total to the neighborhood of US$3.4 million. This brings the ten-year total to some US$21 million, and there's still US$1.6 million to go to pass last year's total (CP have always grown in absolute terms, year-on-year).
Speaking of The AV Club and their year-end best-of lists, today they tackled Graphic Novels and Art Comics¹ wherein they recognized Emily Carroll's Out of Skin and Gene Yang's Boxers & Saints, all of which also count as "speaking of …". One should note as well that another of their recognized graphic novels, while not strictly webcomic-related, does come from :01 Books (speaking of, once more) — namely, Paul Pope's Battling Boy.
Okay, this might stretch the limits of "speaking of", since we have to go back exactly one year when A Lesson Is Learned By The Damage Is Irreversible returned for what was claimed to be a one-off. They have since released a second new comic within the past five weeks, meaning they're only now restarting the hiatus clock and will have to go more than six and a half years to equal their previous absence.

It actually makes sense that they've produced but one comic since their return for hiatus, as it would seem that significant amount of time would be needed for them to put a collection of their past strips as prints up at TopatoCo, seeing as how they're all different sizes and degrees of complexity. Those factors mean that not all ALILBTDII strips are available, and that those that are will have prices varying from US$14 to US$60 (for a single-piece humongous print of I Name Thee Annihilator, which is 190 cm tall, or nearly one Ryan North in height).
_______________
¹ To distinguish from yesterday's list of mainstream comic books, the boundaries being somewhat arbitrary.