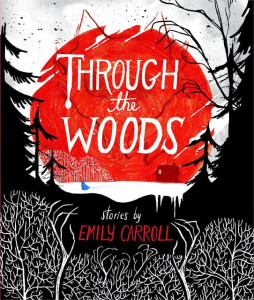 To quote The Spurge, who tweeted last evening:
emily carroll emily carroll emily carroll
Spurge's tweet led to a Tumblr that led to Zainab Akhtar's blog that's got images and info — a full preview, honestly — of Emily Carroll's first print collection.
Due in July 2014 in a 200+ page hardcover, Through The Woods looks to be exactly what anybody that's read Carroll's comics will want — fairy- and folk-tale influenced, deeply unsettling stories, including a reconfigured-for-print version of her breakout story, His Face All Red. Akhtar asserts that this is one of the books that most comics fans are looking forward to and I'm gonna go out on a limb and agree; at least for me, this may be my most-anticipated book since, jeeze, I dunno? Anya's Ghost? Boxers & Saints? Darkness? Just head over to Akhtar's site and drink in the beauty.
Okay, one other story that matters: you're coming up on your last chances to get in on a pair of webcomics Kickstarts.
You've got 10 hours to get in on Sophie Goldstein and Jenn Jordan's Darwin Carmichael Is Going To Hell campaign (which, sitting at about 180% of goal, is definitely going to be made, but you won't get your copy any quicker than on the KS). DCIGTH is charming, comforting, and a complete story, so this is it — your chance to support Jordan and Goldstein for the free comics they supplied you.
And since I last wrote about it a week ago, the Broken Telephone campaign has seen a resurgence, sitting at about 91% with three days to do. Kicktraq has the latest iteration of Ryan Estrada's The Whole Story series finishing at 104% of goal (which is loads better than the heartbreaking 96% it was predicting last week), but nothing counts until it crosses that 100% threshold. There's an armful of creators who stand to get paid with actual, real money, but only if a little less that US$2200 of more pledges show up. Time's running out, don't let this one stumble.