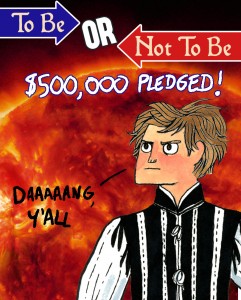 To quote the ghost of Ryan North:
boom
That would be the formerly-living Nexus of All Webcomics Realities (Great White North Division) ceasing to exist in our plane of reality as he sploded a little more than an hour ago. Astonishingly, I can only assume that North's backers had murder on their minds, as his Kicktraq pledge history shows that today is already his single highest-grossing day with some nine hours still to go¹, a situation which I've never observed. Kickstarters are always frontloaded, and yeah you'll get a tick upwards at or near the end, but to have your highest daily totals then is unheard of.
Heck, his projected total is trending upwards for the past couple of days, and it's entirely possible he could hit US$550,000² before things finish tomorrow morning. HE'S ALREADY DEAD YOU BASTARDS, YOU CAN'T KILL HIS CORPSE ANY MORE.
As amazing as all of that is, the most amazing part of this month-long rollercoaster was revealed earlier today by the onetime tallest man in webcomics on what used to be his Tumblr, regarding a man named Tom Helleberg:
… who is the nicest guy. Sorry everyone else, but you're all tied for second place now. About a week after To Be Or Not To Be launched I got an email from him that congratulated me on the success of the book, said I now owed it to him to make it the best book it could possibly be, and concluded with the fact he'd been talking to publishers and shopping around his own idea for a book without success for the past two years: also a choose-your-own-path version of Hamlet.

It took me two days to write him back, because I kept putting myself in his shoes (I'm about to launch my Kickstarter when Quirk³ or someone announces Tom's book) and it feels awful. Just awful. What could I say to him? When I did write him back I basically said those things: I felt terrible, and I couldn't believe we'd both come up with the same idea and had such different experiences with it. Again, Tom was the nicest guy (he thanked me for being a decent human being: honestly touching, and he said he was dismantling his large-scale revenge photocollage about me: also nice) and he mentioned was actually relieved to be done with the project and able to move on to his next idea — and when that's done, would I be willing to supply a quote for the back of the book? [emphasis original]
Reached for comment, the late Mr North remarked that he had tried to find a definition for "explode" in the OED that would forestall his gruesome death, but was unable to do so before his demise, where witnesses report a couple was observed to be high-fiving. We at Fleen extend our condolences to North's wife, family, friends, dog, and to Mr Helleberg, who will now have to find somebody else to write that blurb.
_______________
¹ In today's totals that is; there's still some 17 hours in all for the campaign.
² Also known as "2750% of goal", or "getting pretty damn close to double the previously highest-funded publishing project in Kickstarter history which was done by marketing guru Seth Godin, dang yo".
³ Editor's note: Quirk are the publishing house behind such ventures as Pride and Prejudice and Zombies, and it's amazing that they didn't announce such a think as choose-your-own-Hamlet already. Tough luck, Quirk. Maybe you can negotiate with North's literary estate for the rights to mass-market editions once the Kickstarter rewards are all distributed.