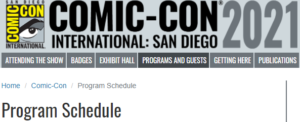 Well here we are, about three weeks into July, and San Diego Comic Con is again not happening in person. Given what was known back in the spring when CCI organizers needed to make a call, it was the right decision. Given what is happening now with more contagious variants of COVID spreading like wildfire among the unvaccinated¹, it's a damn good thing they made the decision that they made. So it's online for SDCC again, with a full list of participating exhibitors (whatever that means; it wasn't too clearly defined last year) releasing on Thursday, to coincide with the first full day of programming.
Speaking of, let's look at what's coming to a video stream near you. Like last year, these panels appear to have been entirely pre-recorded and will premiere at the date/time given (all times PDT). Also, I'll note that thing appear bit sparser than last year², in that a slate of in-person programming was well in development by the time lockdowns started; looks like they just started with less this year.
Thursday
Teaching And Learning With Comics
3:00pm — 4:00pm
Not just another panel on the educational potential of comics, but a panel on the educational potential of comics featuring Kelly Sue Deconnick and Matt Fraction, which ought to be real good. Joining them in the discussion will be Peter Carlson (Green Dot Public Schools), Susan Kirtley (Portland State University), and Antero Garcia (Stanford University).
Friday
ComiXology Presents The 33rd Annual Will Eisner Comic Industry Awards
7:00pm–9:00pm
Last year, as I recall, it was just about an hour start to finish on the prerecorded announcement of winners. Certainly nobody's agitating for a return to four-plus hour marathons, but two hours seems like it could allow things to breathe a little better. Phil Lamarr returns for hosting duties, along with Sergio Aragonés presenting this year's Hall of Fame inductees.
Saturday
Launching Your First Kickstarter
11:00am — noon
Seems like something called almost exactly this is on deck every year, and weirdly it never features the same folks twice. This one gets props for including Kickstarter's director of comics outreach, Oriana Leckert, and some prominent cartoonists who've used Kickstarter of late: Tina Horn, Eric Powell, Afua Richardson, and the irreplaceable Jeff Smith, along with the director of brand, editorial (not 100% sure what that means) for Skybound Entertainment, Arune Singh.
Keenspot Turns 21! Ninjas & Robots–Junior High Horrors–The D Ward Spotlight
1:00pm — 2:00pm
This is how you know it's a weird year. Keenspot always gets programmed late in the day on Sunday, almost at the very end of SDCC, but this year they're in the middle of Saturday. Weird. Anyway, it's still Keenspot, probably not going to look very different from the previous 20 iterations.
First You March—Then You Run-Celebrating Congressman John Lewis' Legacy
4:00pm — 5:00pm
It's been a year since we lost John Lewis, and six years since he cosplayed as his younger self and led a march of young folks at the San Diego Convention Center; you can't get a costume more authentic than the same damn coat you wore when you were nearly beaten to death on the Edmund Pettus Bridge on Bloody Sunday for the audacity of wanting to vote.
Of course, Congressman Lewis's March trilogy is a masterpiece and though he has left us, he and his collaborators were well into the creation of the sequel: Run, which starts the story of Lewis's quest for elected office. Author (and onetime Lewis legislative aide) Andrew Aydin and co-illustrator L Fury will be joined by Lewis's nephew, LA County firefighter Anthony Dixon, moderated by professor Qiana Whitted.
Given everything that's going on in the country today, this is probably the most important panel of the weekend. Tune in, and then call every elected official that depends on your vote and demand that they spend as much time and effort as necessary to pass the John Lewis Voting Rights Act.
Sunday
Comics Made Me Who I Am Today: Kids Graphic Novelists and Their Influences
11:00am — noon
Ooooh, there's some good folks on this one: Nidhi Chanani (whose newest graphic novel, Jukebox, will be getting a review here soon), Jerry Craft, Betsy Peterschmidt, Dana Simpson, and Judd Winick (Hilo) in discussion with Cartoon Art museum curator Andrew Farago. Bet there's a lot of happiness in this one.
The Adventure Zone And Bubble: Podcasts To Comics
noon — 1:00pm
Yeah, yeah, McElroys, got it. Bubble was a wickedly smart podcast, and the bits of the graphic novel adaptation I've seen — with art by the stellar Tony Cliff — hint at a really good adaptation. Not a straight copy but telling the story in the way best suited to a different medium. Cliff will be there along with Bubble creator Jordan Morris and adapter Sarah Morgan; from the TAZ side you've got Travis and Griffin McElroy and illustrator Carey Pietsch (it's been a delight watching her grow on the series), and they're all wrangled by Alison Wilgus, who edited both projects and thus maybe knows more about adapting podcasts to graphic novels than anybody else.
Comic-Con@Home is listed as running 23-25 July, and that's when they have pretty full days of programming, but there's actually panels as early as Wednesday the 21st. See the programming page for more info.
---
Spam of the day:
We have a surprise for Netflix Customers You're on our List You have been selected to participate Response Needed Notice: Wholesale Survey Offer expiring soon! You have been selected to get an exclusive reward! To qualify for this special offer , simply complete our 30-second marketing survey about your shopping experiences.
I don't have a Netflix account and there's no way in hell I'm clicking your thing.
_______________
¹ Making up something like 99% of the current infections, and closer to 99.6% of serious illness/hospitalizations. I was almost used to taking patients to the ED and not seeing signs about which rooms were subject to special isolation precautions, and now they're popping up again — and I'm in a state with a pretty high rate of total population vaccinated, an even higher rate of 12-and-up vaccinated, and pushing 90% of seniors vaccinated. We're not taking in the very elderly for COVID any more; it's people in their 30s and 40s who are otherwise healthy. Get your godsdamned shots, people.
² Want to know how I know it's a different process? The long-runnning and much beloved Best & Worst Manga panel is missing! Maybe somebody decided it just doesn't work without a live audience of howler monkeys with opinions (it totally works without them).