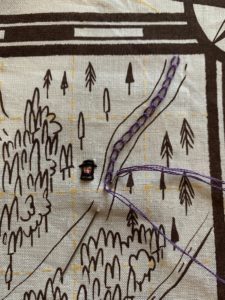 You know, when I get a bit down, I can always count on Shing Yin Khor to do something awesome and give me hope in humanity — or possibly gnomity — again. Along with seeing people share their playthroughs of A Mending on social media¹ and wondering how many stories have been birthed as a result, I've been thinking back on their intent to make this experience as broadly available as possible.
Experience because everybody I've shared it with regards it as more than a game. It's an invitation to creativity, a tutorial in storybuilding, and an act of self-examination all wrapped in the guise of a game. But it's the broadly part that I wanted to talk about. Readers may recall that when A Mending was Kickstarting, we at Fleen wrote about Khor's determination to make it both an open-source framework for the story prompts that others might devise, and especially in acknowledging that they might not see all the barriers that could prevent individuals from being able to participate:
I'm creating two $1500 grants for people who would like to adapt A Mending for wider accessibility. One grant is focused on visual accessibility, the other on range-of-motion accessibility. These grants come with a free commercial license, so they can take 100% of profits from work they choose to make commercially available (I will only need attribution). The non-exclusive commercial license includes my art, writing and game design work. What does this mean? Maybe it's someone selling raised versions of the cloth map in high contrast colors. Maybe it's porting the game to Roll 20. Maybe a website that produces randomized voiceovers for all the cards. I don't really know but I'd like to find out too! [emphasis original]
Not only that, but Khor decided that they would license the game framework to whoever came up with those accessibility modifications, so that the modded versions would be sold for profit. It's been a busy time getting the A Mending kits out to backers², so it's only now that they have been able to take a look at those grants. From a backers-only update³ to the campaign:
I initially wanted to offer two accessibility grants of [US]$1500 each to two people or groups working on improving accessibility on my game, A Mending. However, instead of creating an formal application process (which in this particular instance, feels like it might be more gate-keepy than useful), I have decided to simply put aside [US]$3000 to properly compensate people working on accessibility issues if they choose to work on a more accessible version of A Mending, which can include smaller targeted projects. I will write more about this soon, but if you've been thinking about ways A Mending could be more accessible, and would like to work on that, let me know — I'd like to pay you.

Proposals(these do not need to be formal) can be emailed directly to me(shingkhor who has an account at the Google-hosted mail, a dot-com); please include your budget/pay-rate and an outline of what you might want to make or do.

If you are an independent designer and would like to self-fund a more accessible version of A Mending, and only need a commercial license to make money on your version, email me. The license will allow you to produce a commercial version of the game with your accessibility changes, whether digital or physical. If you would like to produce a non-commercial version of the game, you can already do so under its current license. [emphasis mine]
I suspect that more people will make more things this way than in the original two grants model. And more people making more things will benefit exponentially more people who otherwise would have missed out.
Khor tells me they will be making a more public announcement once A Mending is widely available, although that may be some weeks away. If you have ideas, contact them at the email given above.
---
Spam of the day:
After years of providing professional blog writing and other copy material, I have recently launched my own site. My mission is to write engaging blog posts to help start ups and small businesses build credibility, providing quality and value, at an affordable level.
Dude, I don't get paid for this, you think I'm going to pay you to write a generic post that has nothing to do with webcomics?
Okay, even more nothing than one of mine?
_______________
¹ Yes, I included myself twice. Deal.
² As to be expected, with more than 2500 due physical rewards.
³ I emailed Khor for permission to quote and share, and they graciously agreed.