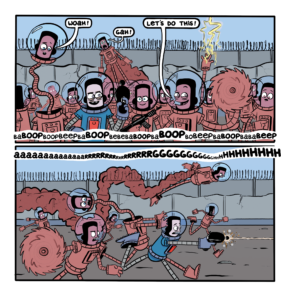 Hey there. Want to find something cool to read in the not necessarily immediate future, but pretty soon nonetheless? Something in the sci-fi comics domain, mayhap? Then read on 'cause that's what we're talking about today.
Word came back in November that one of Jim Zub's creator-owned tales would be making the leap from comiXology¹ to print, and now we have a release date. Stone Star Vol 1: Fight Or Flight (discussed previously) comes out from Dark Horse a week from tomorrow at your preferred comic shop, with words by Zub, pictures by Max Dunbar, covers by Espen Grundetjern is US$19.99, and absolutely worth a read.
You'll have to wait a while to read it on paper, but Los Angeles resident Dave Kellett launched the Kickstart for the Act III² print collection of Drive, and you absolutely want in on this one. Yes, the price point for a physical book (US$55) is steep, but the previous volumes have been hefty, beautiful hardcovers jam-packed with extras. Sure, you could get the softcover for US$35, but you'd miss out on the dustcover, the ribbon bookmark, the endpapers, the spot UV … which technically the hardcover doesn't have yet on account of they're stretch goals, as are the various Tales From The Drive stories³ that have released since the Act 3 book came out, but history suggests that they'll be unlocked as that's what happened with the prior two books.

Look. Campaign went up yesterday with a goal of US$45000 (a high goal, to be sure). As of now, it's just shy of US$60,000, about US$5000 from stretch goal number 1 (the Gurihiru Tales story), so I'm highly confident the others will unlock. There's potentially 90 pages of Tales in addition to book upgrades to go, before the campaign ends in a month.

Storywise, it looks like all the pieces are finally on the board, as LArDK once described Drive as being a three-act story and he's now upped that to five acts. Oh, and no FFF mk2 predictions on this one, as LArDk has a habit of stealth launching to this Patreonistas, and that throws things off.

About a month ago, Doug Wilson (about whom we had some discussion back around '09-'10, and again regarding an unsuccessful Kickstart around '15, and one mo' 'gain in 2017 about a new project, which is immediately relevant) sent along a PDF of his now-completed story, Jack Astro (told you). The story starts as a subversion of the old Heinleinian eleite super-soldier story, and turns into a fairly familiar bumbler-out-of-their-depths story, albeit one that ends a bit abruptly.

Wilson's Kickstarting the full story starting Thursday, and while I don't have any details to give you yet (that whole not yet launched thing), a) it fit the theme today too well not to mention, and b) it'll certainly be worth your perusal at the end of the week.
---
Spam of the day:
I am currently running a PR campaign for my client and I would like to request you to share our website [nope!].com on your social media, bookmark it and give us a backlink on your blog fleen.com I will check in a few days' time and if I do not see a backlink to our site and social signals, I will spam fleen.com with a whole load of toxic link farms that will inevitably drag your site down the rankings.

Just to show you that I am dead serious, please take a look at the backlink profile of this url and note all the spam links being created 24/7. The same destiny awaits your site: [nuh-uh].com

Please do not try to report me or try any monkey business as this will only piss me off and increase the severity of spam going to fleen.com Should you comply, I will reward you with a link on our site.

Thanks in advance. Kind regards
It's the Kind regards in a blackmail attempt that's really pissing me off. So, two things:
1. This was sent more than two weeks ago and gosh, I don't see any drag-down in the search rankings, and 2. Do fuck off. The bitcon-seeking liar threatening to release video of me watching porn, hacked from a webcam that doesn't exist, was more convincing that this horseshit.
_______________
¹ Occasional reminder that they don't get links, on account of Amazon's terms & conditions mean that you don't actually own any of the comics you purchase from them and screw that noise.
² Which wrapped up just about a week and a half back.
³ The most recent of which, Motherbear, from LArDK assistant Beth Reidmiller, wrapped up just today.