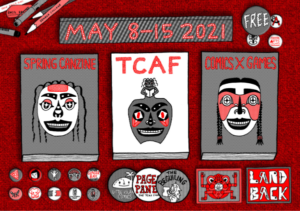 Kind of snuck up on us, didn't it? But it's Mother's Day weekend, and that means TCAF. whether in-person (someday) or virtual (again). There's lots going on with a mix of pre-recorded and live video events, Zoom room exhibitor hours, and a vendor's marketplace. Some sessions will require registration, and all are subject to TCAF's Code Of Conduct, so no griefing.
Things that caught my eye (all times EDT):
Friday, 7 May
Kickoff Session
Pre-recorded, premiering on YouTube at 7:00pm.
Saturday, 8 May
Make Comics Your Way With Story Planet
Live online (register here) geared for grades 3-6 as the panel and participants create characters & a story. 1:00pm
Sunday, 9 May
Molly Knox Ostertag Spotlight
Pre-recorded with live Q&A (register here), featuring a reading from Ostertag's new graphic novel, The Girl From The Sea. 3:00pm.
Monday, 10 May
Rage, Apathy And Satire In The Black Creative Realm
Abdul Ali, Ben Passmore, and Richie Pope live (register here) talking about the meaning and challenges of being Black and creative. 3:00pm.
Tuesday, 11 May
Boulet Spotlight
Live talk (register here) with Peterbirkemoe. 5:00pm.
Protest Comics
Ho Che Anderson, Derf Backderf, and Nate Powell in a pre-recorded talk about the need to present dissent, and the responsibilities that entails. Premieres on YouTube at 7:00pm.
Wednesday, 12 May
Nagata Kabi Spotlight
Creator of the groundbreaking My series of autobio manga (My Lesbian Experience With Loneliness, My Solo Exchange Diary, My Alcoholic Escape From Reality) in a pre-recorded conversation with Deb Aoki and interpreter/comics translator Jocelyne Allen. Premiering on YouTube at 7:00pm.
Thursday, 13 May
Health (S)Care: Personal And Global Perspectives
Everything from traumatic brain injuries to the big and small ways that COVID-19 has affected all of us. Live panel discussion (register here) at 4:00pm.
Friday, 14 May
Life Into Comedy
Where autobio meets humor, or mining real-life experiences for various degrees of fictionalized funny. Shary Flenniken, Meichi Ng, Thom, Yuko Ota & Ananth Hirsh, moderated live (register here) by Boum. 8:00pm.
Saturday, 15 May
Closing Panel
When else are you going to get to see Katie Skelly, Jaime Hernandez, Aubrey Sitterson, and Chris Moreno hold forth on their love of professional wrestling, comics about professional wrestling, and the history of women in professional wrestling? Never, that's when. Live (as all the best wrestling is; register here) and refereed by S-Quire Johnson. 5:00pm.
Libraries & Education Day
A separate track for librarians and educators (register here) on Friday, 14 May, with keynote speaker Jeff Smith kicking things off at 9:00am and a full day of programming following.
Of particular note are a mingle session with reps/creators of Scholastic Canada, Penguin Random House, Harper Collins, Fantagraphics, and Macmillan Children's Publishing Group + First Second (12:30pm to 1:30pm) and Comics Publisher Speed-Dating with a series of quick presentation on new releases from NBM/Papercutz, Renegade Arts Entertainment, Highwater/Portage & Main, and Arsenal Pulp Press (4:00pm to 5:00pm).
Naturally, there's lots of other sessions during the day about the kinds of material that comics in the classroom excel at, but librarians and teachers making contact with the creators and publishers behind the comics has been, in my experience, a uniquely fruitful thing.
---
Spam of the day:
Every person who did this 30-second trick after brushing their teeth, experienced a dramatic rejuvenation of their gums AND rebuilt their teeth…
Or you could just floss. It's easy, it's cheap, it saves you a mountain of headaches — some literal — and doesn't require to mix three common household ingredients (why do I get the feeling two of them are ammonia and bleach?).