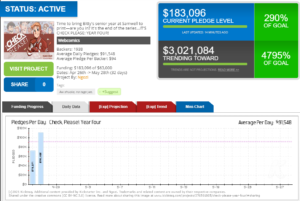 We at Fleen have been fans of Ngozi Ukazu's Check, Please! for a long damn time (I'ma guess around 2014 or so was when I was first put onto the delightful story of gay hockey bros), above and beyond her magnificent, record-break Kickstarts, one of which got me invited onto actual National Public Radio to talk about her import and impact.
And amid her announcement that Check, Please! would also see publication as 2-book volumes via First Second — the sort of thing that gets you into far more bookstores than even the record-breakingest Kickstart — was the knowledge that she would do a self-published fourth collection, so that those who'd supported her through the first three could have a complete and consistent set. The Plague Year (gonna probably be Year And A Half by the time it's even vaguely done) pushed things back a lot, but the time of prophecy is now upon us:
It's here! It's massive. It's the CHECK, PLEASE!: YEAR FOUR Kickstarter. #omgcp [hockey stick emoji] [checkmark emoji] [pie emoji]
The CHECK, PLEASE!: YEAR FOUR Kickstarter aims to

[book emoji] self-publish the last vol. of #omgcp
[stack of books emoji] create collectors slipcases!!
[hockey stick emoji] get jerseys made for PVD Falcs alt. cap. Jack Zimmermann
[two hearts emoji] PRINT MADISON!!
That went up about five hours ago; at present, the campaign is north of US$183 thousand damn dollars (on a goal of US$63000, or just about 300% funded) and merely has a month to go. Tiers go all the way up to US$360 (a four-book signed hardcover collection with slipcase and an ice-ready hockey jersey), which tier has already seen 24 backers. People really love this series.
Oh and one other thing — the Book Two campaign, which set a record for the most-funded webcomics project¹ in Kickstarter history? It raised US$398,520. Book Four has already reached 46% of what Book Two did. Looking at the day one data on Kicktraq, Book Two did US$163,777, or about what Book Four has done in the five hours since it was announced … kinda. We're actually on day two, as it look like Ukazu did a stealth launch, with US$72K done yesterday, but that also means there's more than US$110K after the public go-live. You don't ever see a second-day increase in funding, except for a late-in-the-day launch time, and especially you don't see them after stealth launches.
Right now, the FFF mk2 predicts US$600K to 900K and the McDonald Ratio at only halfway to the 3-day mark already predicts north of US$550K. The average per backer as of this writing is more than ninety-four dollars, which is just not something you ever see. This is unprecedented territory, and I will be very interested to see where it ends up and also in the time it's taken me to type the last two paragraphs the total has gone up by more than six hundo.
Oh and also? Heartwarming story that is also hilarious. Give Ukazu your money, your eyeballs, and your attention on her next project, because in the time that she's made Check, Please!, she's only gotten better.
---
Spam of the day:
I need a man for rare and hot meetings! Let's try? I don't sit at the post office, write to me here
I'm not sure why you thought I'd wonder if you were sitting at the post office. I mean, our local post office is pretty nice, but it doesn't offer a seating area, so maybe that's why you aren't sitting there.
_______________
¹ Since surpassed by Ava's Demon, Reborn, with a total of US$530,320.