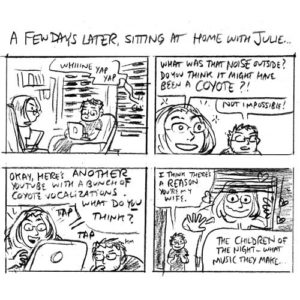 Some of my favorite webcomics are autobio (possibly fake autobio), or are autobio-inspired fiction, at least at their beginning. Even if the creator doesn't do work that's even vaguely autobiographical, drawing on personal history (and the realness of feelings thereunto) can enrich fictional characters, bringing them to life in ways that completely made up folks don't necessarily have. Learn to tell the story of yourself is bound up with learn to tell your own stories¹.
Which is why this caught my eye:
Learn how to transform your personal experiences into visual narratives in our new Comics Journaling workshop. Next session is Sun., Apr. 25, with special guest @hiHelloHans — writer, digital creative, and lifelong maker of auto-bio comics.
More info at http://guestlist.co/events/680421.
That from the Twitterfeed of the fine folks at the Cartoon Art Museum, San Francisco, who are running a series of online seminars aimed at teens (let's say 14+) and adults who are creative-minded and comics-loving. You don't have to be a great artist to do autobio! Take a look at Harvey Pekar's stick figures, which certainly lack the polish of his art partners, but which still express the personal viewpoint that was at the heart of all of his stories.
We're halfway through the CAM seminar series; Cartooning My Day and Cartooning My Life took place on 11 and 18 April, respectively. Sunday, 25 April will be Cartooning My World, and Sunday, 2 May will be Cartooning My Self; each seminar starts at 4:00pm PDT, runs for an hour and a half, and costs US$20. Reservations have to be made by 5:00pm PDT the previous day, with links sent to participants no later than 2 hours before start time. Speaking of time, be on time, as nobody will be admitted more than 10 minutes after start time.
And while programs like this will be more effective in person once the pandemic isolation ends, I can't help but think that making at least some programming of this nature available online will make the outreach and education offered by CAM (and other institutions) much broader than it would be otherwise.
There's countless people that live a world away from San Francisco that would jump at the chance for some of the workshops CAM offers, but which are restricted by time, distance, and room capacity. Here's hoping everybody makes an effort to include them in the future.
---
Spam of the day:
This weird-looking food reverses dementia
Though bizarre, Harvard researchers have discovered a shocking link between your sleep and the onset of Alzheimer' s.The big question is – do you sleep on your side or on your back?
Dr. Will Mitchell, DOM, MS Nutrition
Make up your mind! Are you going to steal my identity by promising a food that cures dementia (first line, signature of fake nutritionist) or by promising a positional cure for Alzheimer's (bit in the middle). It's not too much to ask that you keep your bullshit stories straight instead of intermixing them.
_______________
¹ I'm thinking at the moment of a young adult of my acquaintance who's got a universe of family stories to tell; they just need to set pencil to paper and tell them. Your Naruto-inspired pseudomanga epic? Million of those. Your story of you is unique.